5-Set Menu At NOVIKOV MOSCOW
The Novikov Moscow Restaurant is introducing the set-menu. The guests will be offered 5 courses, namely cold appetizer, soup, salad, the main dish and a dessert.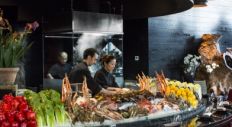 Kitchen:
Pan Asian, Italian, Russian
Average bill:
2000-3000 rub
Address:
3, Tverskaya str., Moscow
There are 5 sets offered to your choice. The first and the most patriotic one is Russian. It includes salad with farm vegetables, cold okroshka with tongue, potato dumplings with chicken kebab and tender Panna Cotta. For Mediterranean cuisine lovers there is Italian set: arugula lettuce with shrimps and avocado, tomato soup with meat balls, linguini with zucchini and pesto, cheesecake. The Asian set includes yasai salad with vegetable dressing, miso soup with salmon, shrimps and tempura vegetables, cheesecake. The Indo-Chinese consists of salad with soya sprouts, hot & sour Chinese soup, curry chicken with rice and Panna Cotta. The Japanese set includes the most popular positions from the main menu such as kaiso salad, miso soup, sushi selection (sweet shrimp, salmon, eel), rolls with salmon and avocado, Panna Cotta. A list of beverages will be offered to each set.
Read also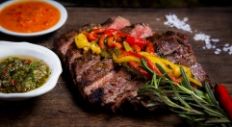 The brand chef of Pab Lo Picasso Roberto Jacomino Perez is good at experimenting with meat offering his own means to fig...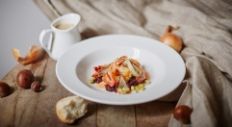 The chef of the Projector Restaurant Maxim Myasnikov keeps experiments with nuts. Chestnuts and hazelnuts seem to become...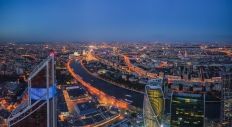 The restaurant holding White Rabbit Family is preparing to open a new project Sakhalin in the highest building in Europe...
ON TOP