Restaurant Mandarin. Noodles and Ducks
Address:
5, Bol'shoy Cherkasskiy pereulok, Moscow
(на карте)
Number of halls:
1 hall - 91 seats
Credit cards:
Visa, Maestro
Another Chinese project called 'Mandarin. Noodles and Ducks' has been opened by Alexander Rappoport together with Giya Abramishvili and Vladimir Kudryavtsev almost at the same time with the restaurant KitayskayaGramota (Chinese Literacy) in Barvikha. Noodles & Ducks are now friends with Mandarin Combustible, a famous bar in Lubyanka which looks like a lobby in a nonexistent hotel where you may find both classical and author's cocktails, while Noodles & Ducks is a small corner of Shanghai, a restaurant of the modern Chinese cuisine in an ultra-fashionable interior. In the menu there are two main ingredients – noodles and ducks. There are almost 50 kinds of Chinese noodles, unique in simplicity, while each kind is undoubtedly a culinary masterpiece, and also there are about 30 variousways to cook Chinese duck – from Peking duck brought to perfection to such delicacies not seen in Russia yet as duck tongues or century duck eggs. Suy Lei has been appointed as a Chef of the project. He is one of the most visible Chinese Chefs who apart from work in many restaurants also consulted KitayskayaGramota and Black Thai. Among alcohol you will see Mandarin Combustible and strong male's classic, fanciful romantic shakes, shots for groups of friends, good European wines and many other positions. The menu includes Asian tapas – a line of bar appetizers developed by the Alexander Rappoport's team. In the evenings the musical ambiance is created by not only modern DJs but also Moscow celebrities. The 'Mandarin. Noodles & Ducks' restaurant in BolshoyCherkasskiy lane is a syncretical reaction to the excellent bar and Chinese cuisine, so beloved by Alexander Rappoport, that has given one of the most interesting restaurant project in our capital. In the title of the restaurant 'Mandarin. Noodles & Ducks' the citrus on the first place resembles a bar's name with a correct memorable list of cocktails and the second part of the title is a gastronomic creed of the cuisine. This unique union exists in a fancy membrane that incorporates Chinese ceremonies together with a space harmony philosophy and European level of comfort. There is black varnish and grey plush with rhythmical inclusions of purple and orange colours, vases with dragoons and flowers, statues themed on the Emperor Qin Shi Huang's terracotta army, lamps of all shapes and sizes, frescos on brick walls with beautiful Chinese women – from Mediterranean Emperor's hetairas to futuristic images in the Alphonse Mucha's style. It is refined ornamental but easy to recognize China, very impressive and attractive. The menu of the restaurant 'Mandarin. Noodles & Ducks' in Moscow really includes noodles and ducks. There are more than two dozens of wheat, egg, buckwheat, rice, home noodles, udon with various supplements – from chicken and sour & sweet pork to lamb with lotus and marble beef in teriyaki. Plus a dozen and a half of duck stories including almost mythical century eggs, pressed duck breast and stewed duck tongues.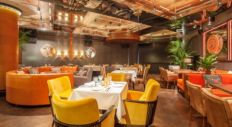 ON TOP