Beef tartar with marinated onion and capers
Шеф-повар Евгений Викентьев продемонстрировал нам, как приготовить сочный тар-тар из говядины, который сам он назвал околоклассическим.
Cooking time —
Complication —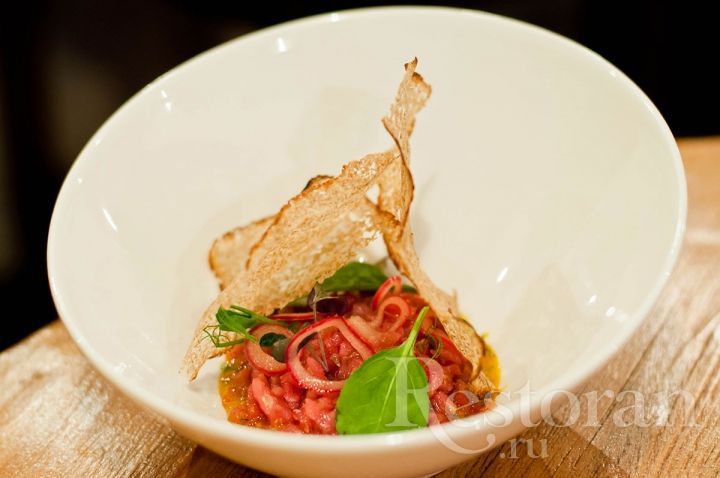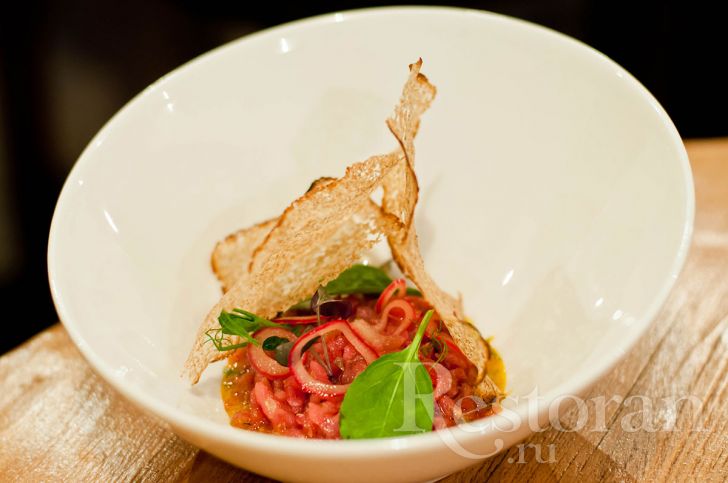 Ingredients (counted for one portion):
Beef, 80 g;

Capers, 3 g;

Red onion, 5 g;

Red wine vinegar, 10 g;

Sugar 10 g;

Salt, 5 g;

Water, 100 ml;

Anise, ¼ star;

Olive oil, 10 g;

Egg, 1 pc;

Estragon, 3 g;

Cognac, 7 g;

Brown bread, 10 g.
Step 1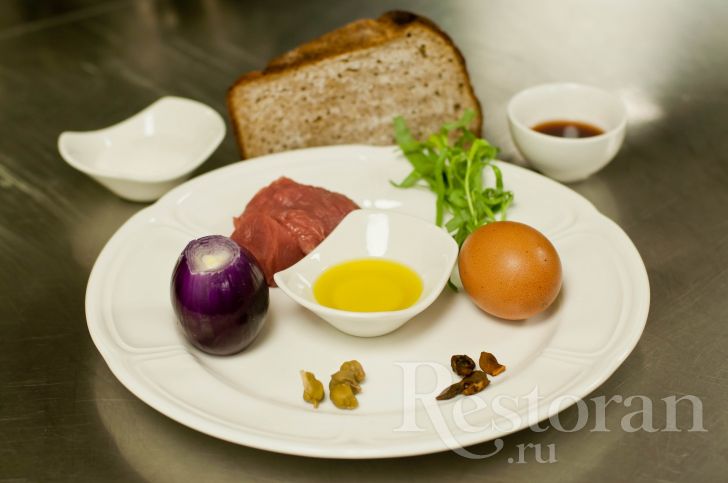 Prepare all ingredients.
Step 2
Freeze bread and finely slice afterwards (3-4 slices).
Step 3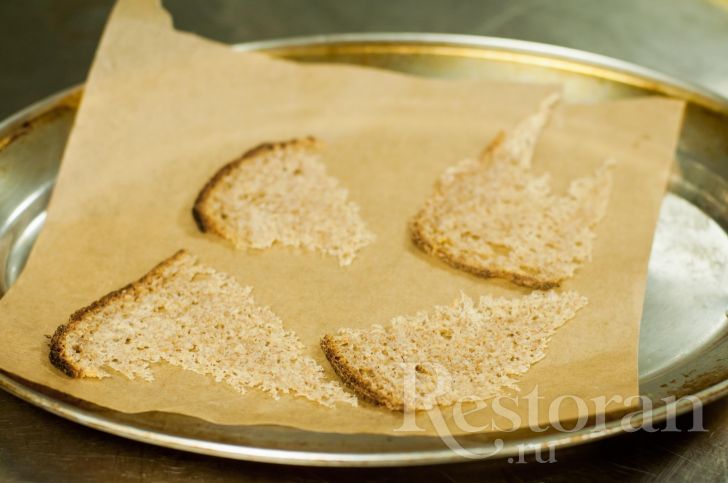 Dry bread slices in a warm place (about half an hour) or dry in the oven.
Step 4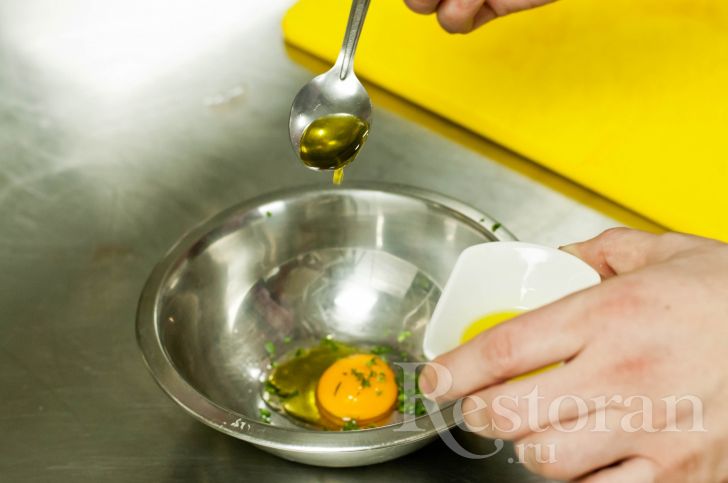 Mix the egg yolk with cognac, olive oil and chopped estragon.
Step 5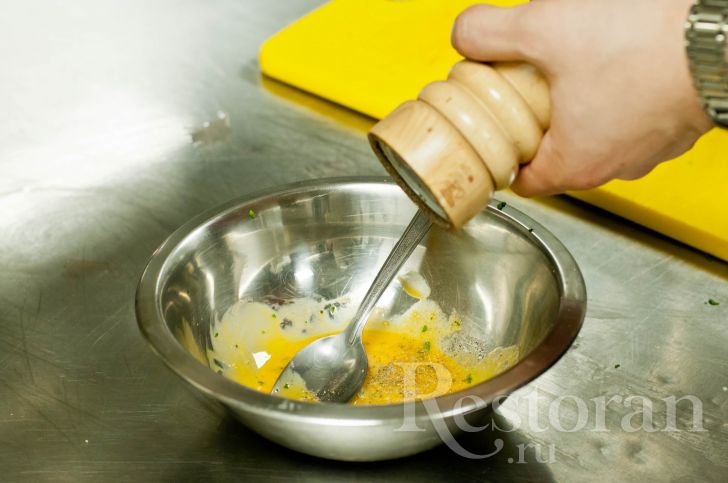 Add salt and pepper to the yolk.
Step 6
Mix water with vinegar, sugar, salt and anise, get boiled.
Step 7
Cut red onion into thin rings.
Step 8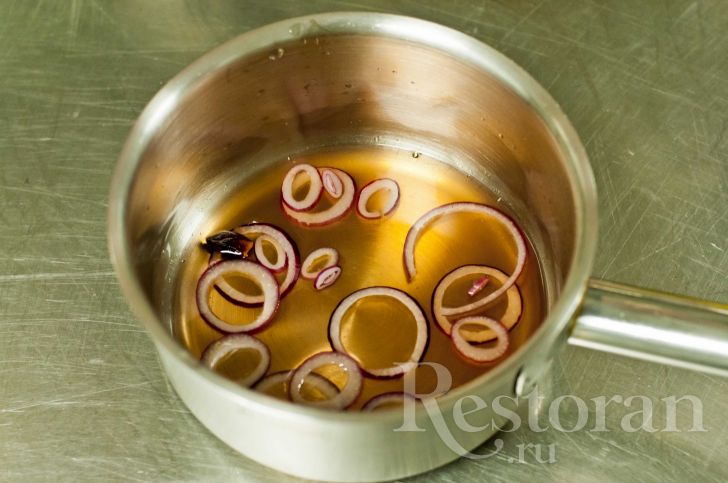 Place rings of onion in the water with vinegar, then cool down.
Step 9
Finely chop capers.
Step 10
Cut the beef into small cubes.
Step 11
Mix beef with capers in a bowl, sprinkle with salt and pepper and add olive oil.
Step 12
Pour the sauce with yolk and etsragon on a plate.
Step 13
Place beef tartar on top.
Step 14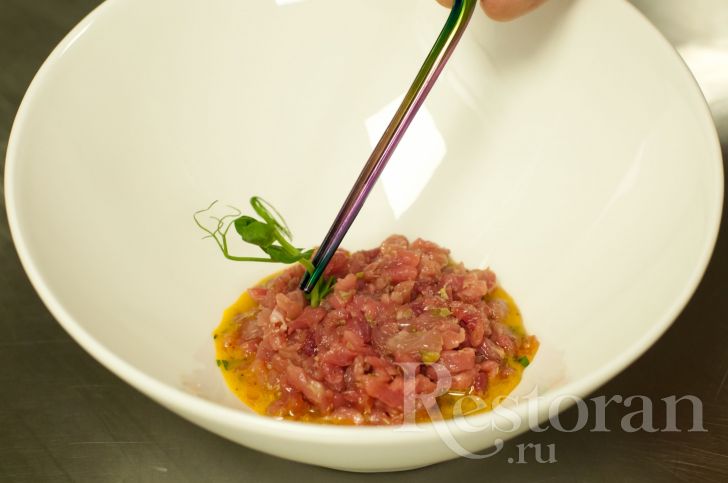 Top the tartar with herbs and rings of marinated onion.
Step 15
Dress the tartar with slices of dry bread.
Bon appetite!
Similar recipes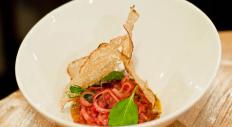 Шеф-повар Евгений Викентьев продемонстрировал нам, как приготовить сочный тар-тар из говядины, который сам он назвал околоклассическим.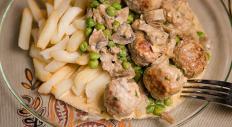 When you run home from work and need to cook dinner preferably fast and tasty, it's good to remember about frozen meat balls stored in the freezer. It's just the time to use them.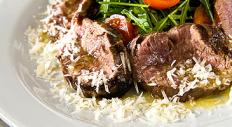 Beef sirloin lockets with arugula lettuce and cherry tomatoes will be a perfect dish for beer and the secret how to cook it has been disclosed by restaurant Chef Vladimir Sharutin.
ON TOP