Special Menu At Simachyard Restaurant: Northern Vendace & Krasnodar Catfish
Vendace sprat, orange caramel, aspen mushrooms sauce, farm sour cream ice-cream – you will see only new combinations from the chef Evgueny Cherednichenko in the special autumn menu at the Simachyard Restaurant.
Evgueny Cherednichenko has made an accent on Russian products and interesting combinations.
Here are some extracts:
Moscow borsch with prunes (350 rub.) and solyanka (350 rub.) with farm sour cream;
Home smoked sprat made of Northern vendace with baked parsnip and baked potatoes cream (340 rub);
Grilled Kamchatka Scallop with Cauliflower cream (450 rub);
Klopse (meatballs) served with airy potato mousse, truffle oil and carrot caramel (380 rub.);
Veal with marinated cep mushrooms (280 rub.);
Beef roll with morels sauce (510 rub.)
Beef medalions with smoked tomatoes jam, grilled green tomatoes and mashed potatoes (630 rub.);
Fusilli with Voronezh rabbit baked with cheese fondue (510 rub.);
Belorussian burger made of marble beef on potato hash browns (580 rub.).
Read also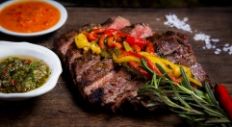 The brand chef of Pab Lo Picasso Roberto Jacomino Perez is good at experimenting with meat offering his own means to fig...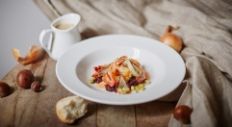 The chef of the Projector Restaurant Maxim Myasnikov keeps experiments with nuts. Chestnuts and hazelnuts seem to become...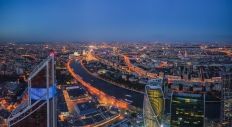 The restaurant holding White Rabbit Family is preparing to open a new project Sakhalin in the highest building in Europe...
ON TOP