Autumn Harvest At Nani Restaurant
The Nani restaurant chef Elena Dikovskaya prepared hot offers for the guests. As usual in autumn, the main role is played by pumpkin in this season.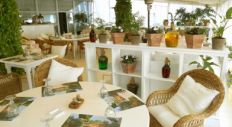 Kitchen:
Georgian
Average bill:
1000-1500 rub
Address:
20, Malaya Dmitrovka str., Moscow
Lamb is baked in pumpkin (640 rub.). Mini-pumpkins are used for individual portions and "carriages for Cinderellas" have been stored in the kitchen for big groups of friends.
As for the rest of the menu, its diversity has been especially remarked. There are such dishes as duck fillet with couscous and ginger sauce (620 rub.) and warm salad with prawns (470 rub.). You will find also pork ears aspic with kindzmari sauce (550 rub.), a roll with pastirma and beef (410 rub.), warm mushroom caviar (510 rub.) and sterlet baked in the oven (1550 rub.). It's worth mentioning unusual Georgian classical dishes, such as veal chashushuli (590 rub.) and red lobio with smoked meat in lavash (430 rub.).
Read also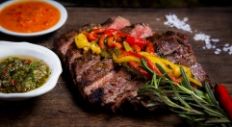 The brand chef of Pab Lo Picasso Roberto Jacomino Perez is good at experimenting with meat offering his own means to fig...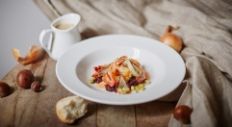 The chef of the Projector Restaurant Maxim Myasnikov keeps experiments with nuts. Chestnuts and hazelnuts seem to become...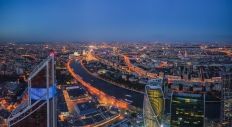 The restaurant holding White Rabbit Family is preparing to open a new project Sakhalin in the highest building in Europe...
ON TOP