Bread From Press Iron At Saperavi Cafe & Vai Me Restaurant
Khatuna Kolbaya, the owner of Saperavi Cafe and Vai Me Restaurantschaintogether with her son Irakliy are launching a new culinary brand (and trend as well) – wheat scones from the press iron.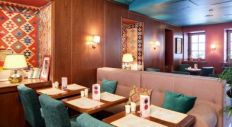 Kitchen:
Georgian
Average bill:
1000-1500 rub
Address:
5 bldg. 5, Pokrovka str., Moscow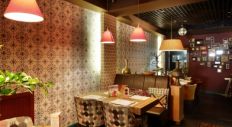 Kitchen:
Georgian
Average bill:
1000-1500 rub
Address:
27, Pervaya Tverskaya-Yamskaya str., Moscow
An electrical oven is placed under the tent where ancient cast iron press irons are heated. Press irons play the leading part in the new project: scones with filling are placed under irons for baking under press. Scones are baked in advance and cooks make them of nonyeasted dough with wheat flour, dry basil and fresh dill. Scones are quite consistent and big (30 cm diameter). A guest will choose a filling for the scone: grated Mozzarella, fresh vegetables with onion and spices or chopped chicken fillet with tomatoes and onion. Then a sauce is to be chosen: tomato with spices or cucumber with garlic. The filling is placed on the one half of the scone which is then overbended and placed under hot press iron.
The scone with one filling and sauce will cost 200 rubles. If a guest will wish to take another filling, it will cost 100 rubles more.
Read also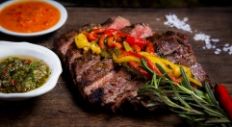 The brand chef of Pab Lo Picasso Roberto Jacomino Perez is good at experimenting with meat offering his own means to fig...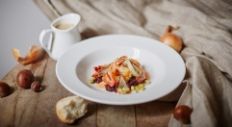 The chef of the Projector Restaurant Maxim Myasnikov keeps experiments with nuts. Chestnuts and hazelnuts seem to become...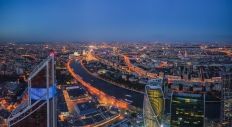 The restaurant holding White Rabbit Family is preparing to open a new project Sakhalin in the highest building in Europe...
ON TOP