Goatling Meat At Bistrot Restaurant
The Chef of Bistrot Restaurant Maxim Khasov has returned back from the trip to Italy and introduced a tasting menu based on mono-product – goatling meat.
Kitchen:
Italian
Average bill:
from 3000 rub
Address:
12 bldg. 2, Bol'shoy Savvinsky lane, Moscow
The menu includes nine dishes such as two starters, two kinds of pasta, three hot courses and two desserts.
The offer is valid for a month from 20th April to 20th May.
This is the special menu:
Selected bruschettas with goat cheese, 650 rubles;
Goatling liver pate, 650 rubles;
Tagliatelle with goatling meat and giblets, 900 rubles;
Ravioli with goatling meat and Chavroux cheese, 950 rubles;
Goatling meat with baked potatoes, 3950 rubles;
Goatling liver, 1500 rubles;
Sheppard's pie with goatling meat, 950 rubles;
Panna Cotta made of goat milk, 450 rubles;
Cheesecake with goat cheese, 500 rubles.
Read also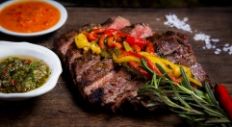 The brand chef of Pab Lo Picasso Roberto Jacomino Perez is good at experimenting with meat offering his own means to fig...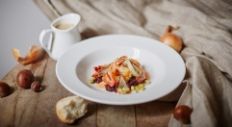 The chef of the Projector Restaurant Maxim Myasnikov keeps experiments with nuts. Chestnuts and hazelnuts seem to become...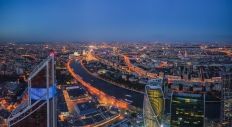 The restaurant holding White Rabbit Family is preparing to open a new project Sakhalin in the highest building in Europe...
ON TOP