Raffaele D'Addio's Tour At Balzi Rossi Restaurant
The Italian chef Raffaele D'Addio is having a culinary tour at the new incredibly sumputous restaurant Balzi Rossi that is widely discussed in the city.
Raffaele D'Addio is the head of two restaurants: 'elder brother' of Moscow Balzi Rossi in Ventimiglia, Liguria in the north of Italy and quite bright osteria Il Foro dei Baroni in the south town Puglianello.
You may be introduced to all sides of Raffaele D'Addio's culinary art during his tour in Moscow Balzi Rossi. On 17, 18 and 19 September the guests will be offered a special set menu with culinary hits of northern and southern Italy. The sommelier Axel Didailler will select unique wines for excellent dishes from the star chef which will be a perfect complement.
Read also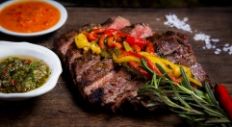 The brand chef of Pab Lo Picasso Roberto Jacomino Perez is good at experimenting with meat offering his own means to fig...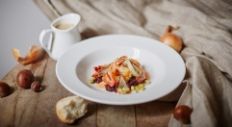 The chef of the Projector Restaurant Maxim Myasnikov keeps experiments with nuts. Chestnuts and hazelnuts seem to become...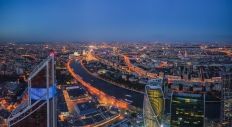 The restaurant holding White Rabbit Family is preparing to open a new project Sakhalin in the highest building in Europe...
ON TOP