Shikari Restaurant
The Shikari Restaurant has been open near the underground station Kuzminki.
Its all zest is contained in author's sauces created especially for Shikari by the chef from Singapore. He used such main dominants as sour & sweet, oyster, curry, pepper, sweet chili plus a special mix of herbs and spices. As a result, there are 12 sauces: Chili Bangkok, Huguang, Black Thai, Black Peking beans, Mongol Red Gobi, Bali citrus, Tibet plum, Singapore Hoisin, chef's siganture Shikari, Coconut curry, sour & sweet Guangzhou, Oyster Saigon.
The name of the restaurant can be explained as follows: a five-point star Shikari is an ancient symbol of harmony and order which unites 5 human feelings and also 5 countries – China, India, Vietnam, Thailand, Japan. The dishes of these countries have been performed in the list. Today Rosinter is not required to introduce the guests a new kitchen as it used to be with Planeta Sushi in the middle of 90-s. It is worth heading to Shikari to remember the tastes from your trips to Asia.
It's better to order "for a table", meaning lots of dishes at once. Prices at Shikari are excellent and start from 29 rubles!
The interior of Shikari has been designed bright and colourful with a lot of suitcases inside as here people travel around Asia!
+7 (495) 739-55-60
Volgogrardskiy pr., 119а
Read also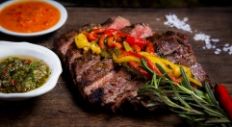 The brand chef of Pab Lo Picasso Roberto Jacomino Perez is good at experimenting with meat offering his own means to fig...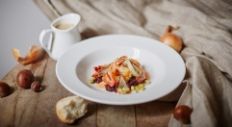 The chef of the Projector Restaurant Maxim Myasnikov keeps experiments with nuts. Chestnuts and hazelnuts seem to become...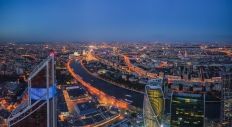 The restaurant holding White Rabbit Family is preparing to open a new project Sakhalin in the highest building in Europe...
ON TOP