Chagin Restaurant
This is a perfect modern beer restaurant from Evgueniy Katsenelson with rich South Russian cuisine and a good beer line.
Vladimir Ivanovich Chagin is an architect of the tsar and early Soviet epoch. The restaurant is situated in the house built by Chagin for his family in Bolshaya Lubyanka. The interior still has kept arched ceilings and brickwork of the century before last. With a few modern details the interior looks comfortable and not overloaded.
The Chagin menu has been worked out by the chef from Stavropol Roman Kuzhelev. The food is quite simple, honest and incredibly tasty. For instance, croutons in the appetizer Beer terrace (250 rubles) are made of bread baked here on their own. First, croutons are frozen and then baked with garlic and spices that makes them fluffy. Chips in the same set are made of own baked lavash with adjika coked by the chef himself.
Another important accent is made on quality and a wide range of beer.
The sorts of beer and suppliers have been selected thoroughly with special efforts as the menu has both long beloved sorts from old English and Belgian breweries and rare not so well-known blends. Happy Hour is announced at 6 pm to get the guests introduced to unfamiliar sorts of beer. A barman rings a bell and announces a sort of beer which would be offered per lower price within an hour.
Bolshaya Lubyanka street, 24.
Read also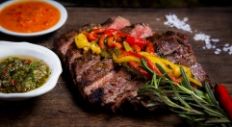 The brand chef of Pab Lo Picasso Roberto Jacomino Perez is good at experimenting with meat offering his own means to fig...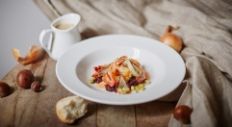 The chef of the Projector Restaurant Maxim Myasnikov keeps experiments with nuts. Chestnuts and hazelnuts seem to become...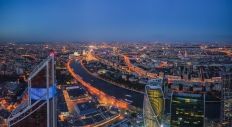 The restaurant holding White Rabbit Family is preparing to open a new project Sakhalin in the highest building in Europe...
ON TOP