Madame Wong Restaurant
Madame Wong is a restaurant of the modern Chinese cuisine, the one that you may see in Hong Kong. The menu of Madame Wong presents an alternative Hong Kong cuisine in author's execution of Dmitry Zotov.
Ther are three main characters in the kitchen: the creative chef and concept author Dmitry Zotov, chef Dmitry Pogorelov and chef-confectioner Kobayashi Katsuhiro. All three follow the same trend but everyone works in his own style. The bar is managed by Asia's fan, Japan in particular, Irina Golubeva. Each cocktail from her is not only thoroughly selected ingredients but a lection and a seminar about Oriental studies.
The chef-sommelier Sergey Krylov has made a wine list in such a wax that a guest with any budget could find an interesting position. Besides, apart from the standard positions of alcohol, here you can find a list of sake.
Natalia Belonogova is a project designer. The interior created by her might be described in three words: symmetry, fineness, simplicity. Without adding extra authentic details, Natalia managed to create the ambiance and the mood of modern restaurants in Hong Kong, Singapore and Tokyo.
Read also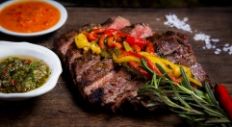 The brand chef of Pab Lo Picasso Roberto Jacomino Perez is good at experimenting with meat offering his own means to fig...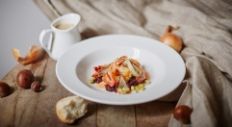 The chef of the Projector Restaurant Maxim Myasnikov keeps experiments with nuts. Chestnuts and hazelnuts seem to become...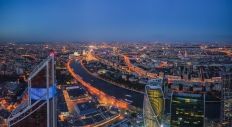 The restaurant holding White Rabbit Family is preparing to open a new project Sakhalin in the highest building in Europe...
ON TOP