Jamie's Italian Restaurant Launches Culinary Master Classes For Adults & Kids
Beginning from September Jamie Oliver's Restaurant in Moscow called Jamie's Italian offers not only dishes per recipes of the famous British cook but also knowledge of cooking techniques.
Culinary master-classes will take place twice a week at the restaurant: on Wednesdays from 7 pm for adults and on Sundays from 1 pm for kids.
The menu includes favourite Italian dishes such as Vitello Tanoto, pizza with prosciutto, Tagliatelle Bolognese) and homemade desserts, namely Tiramisu, Panna Cotta, lemon cake. For kids there are original sweets, pasta shaped as candies and pizza with tasty fillings. Master-classes will be managed by Italian brand chef of Jamie's Italian restaurants in Moscow and St. Petersburg Matteo Lai.
The biggest number of participants in an adults' group is 12 people and in a kids' one – 6 people. Family culinary classes and corporate master-classes will also be carried out.
As for prices, adult's participation will cost 2500 rubles and will include cooking 2 dishes (a starter and a hot course or a hot course and a dessert). From September to October kids' participation is free of charge.
Upon completion participants will get a student certificate of the culinary school Jamie's Italian and recipes of cooked dishes.
The program and a schedule of culinary classes can be found on the web-site:
http://ginza.ru/msk/news/15637
Read also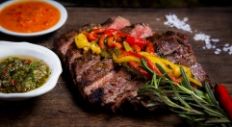 The brand chef of Pab Lo Picasso Roberto Jacomino Perez is good at experimenting with meat offering his own means to fig...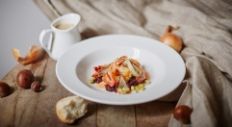 The chef of the Projector Restaurant Maxim Myasnikov keeps experiments with nuts. Chestnuts and hazelnuts seem to become...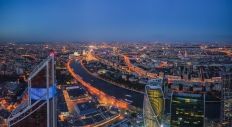 The restaurant holding White Rabbit Family is preparing to open a new project Sakhalin in the highest building in Europe...
ON TOP