Autumn In SAVVA Restaurant — Time or Good News
The news number one: the menu has been updated and the culinary course has changed. From now onwards SAVVA is not specializing in author's Nordic cuisine but a fresh view to Russian culinary traditions with elements of eye-catching Nordic and polished French techniques.
In the menu there are more soups and hot starters and a desserts card has changed together with a selection of vegetarian dishes. Fish, poultry and root vegetables – this is the basis for a new seasonal programme from Andrey Shmakov.
The news number two: the attic where was situated an open chef's bar, has been turned into a ground for thematic enogastronomic evenings directed by the SAVVA brand-chef Andrey Shmakov and the restaurant sommelier Vitaliy Muzychenko. Evenings and tasting events take place every Thursday and Friday.
Read also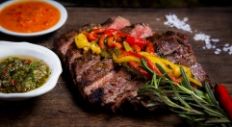 The brand chef of Pab Lo Picasso Roberto Jacomino Perez is good at experimenting with meat offering his own means to fig...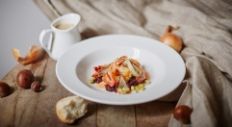 The chef of the Projector Restaurant Maxim Myasnikov keeps experiments with nuts. Chestnuts and hazelnuts seem to become...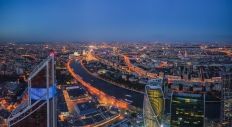 The restaurant holding White Rabbit Family is preparing to open a new project Sakhalin in the highest building in Europe...
ON TOP