New Menu At Banka Restaurant
Banka café has significantly updated the menu having added there new starters, fish and seafood courses and the whole paragraph of grilled dishes.
Now you may order a tapas-set as a perfect starter for wine. It includes lamb tartar, lentil cream with foie gras, rice chips with crab and artichokes and waffle with chicken liver paté. The starter with dorado and coconut cream is also worth mentioning. Among hot courses you'd better try veal cheeks with fruit polenta, among fish courses there is Black Sea goatfish, so popular nowadays: it is fried until the golden crust from both sides and served together with Borodinsky toasts and olive paste. In the dessert menu you will find a chocolate fondant and sea buckthorn cheesecake with white chocolate.
Read also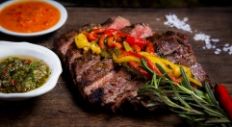 The brand chef of Pab Lo Picasso Roberto Jacomino Perez is good at experimenting with meat offering his own means to fig...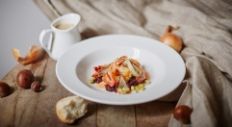 The chef of the Projector Restaurant Maxim Myasnikov keeps experiments with nuts. Chestnuts and hazelnuts seem to become...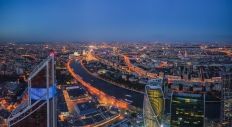 The restaurant holding White Rabbit Family is preparing to open a new project Sakhalin in the highest building in Europe...
ON TOP