Summer Menu At Piazza Rossa Restaurant
The National Hotel and Piazza Rossa Restaurant present a summer offer from the chef Cristiano Andreini, the owner of the Michelin star.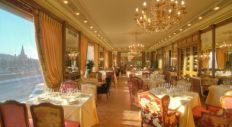 Kitchen:
Chefs, Italian, Russian
Average bill:
2000-3000 rub
Address:
15/1, Mohovaya str., Moscow
The summer card includes such dishes as thin marinated scallops with gazpacho made of tomatoes and strawberries, yogurt ice-cream (990 rubles), rich salad with lobster and algae, asparagus and fresh peach dressing (2490 rubles). As a main course, we recommend risotto with smoked eel and Provolone cheese (990 rubles), porgy fillet with sweet tomatoes and sauce made of cucumber, celery and shell-fish (2900 rubles) or let's say, grilled tuna with marinated pepper, zucchini tempura with Romesco sauce (990 rubles) etc.
Read also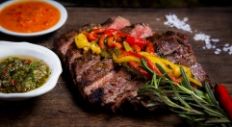 The brand chef of Pab Lo Picasso Roberto Jacomino Perez is good at experimenting with meat offering his own means to fig...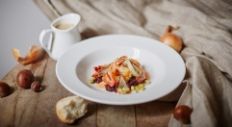 The chef of the Projector Restaurant Maxim Myasnikov keeps experiments with nuts. Chestnuts and hazelnuts seem to become...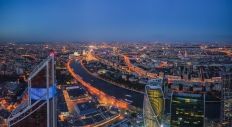 The restaurant holding White Rabbit Family is preparing to open a new project Sakhalin in the highest building in Europe...
ON TOP