Burgers At Food&Chillout Collection Restaurant
A new burgers collection from the chef is available now at the Food&Chillout Collection Restaurant.
The restaurant team has definitely decided to surprise Moscow offering juicy chops made of King crab, African ostrich, marble Black Angus beef or farm chicken.
This a burgers' menu:
Burger with King crab and warm-water prawns, avocado, arugula and guacamole sauce (490 rubles);




Burger with African ostrich meat, Cheddar cheese and fresh tomatoes (390 rubles);




Burger with marble Black Angus beef, Cheddar cheese and marinated cucumbers (390 rubles);




Burger with farm chicken, tomatoes and mustard sauce (290 rubles).



Read also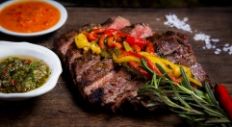 The brand chef of Pab Lo Picasso Roberto Jacomino Perez is good at experimenting with meat offering his own means to fig...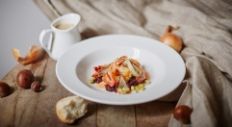 The chef of the Projector Restaurant Maxim Myasnikov keeps experiments with nuts. Chestnuts and hazelnuts seem to become...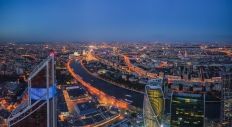 The restaurant holding White Rabbit Family is preparing to open a new project Sakhalin in the highest building in Europe...
ON TOP