Shawarma
Finally, I've managed to do it!!! I've managed to get that very real taste of shawarma like in old times when it only appeared in Petersburg and it was not dangerous to eat. The secret lies in the condiment and of course in fine features of the recipe. Let's see.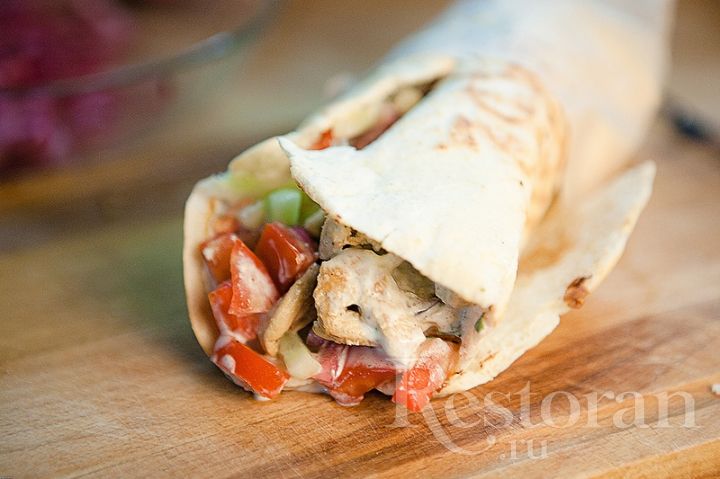 Ingredients:
Chicken fillet – 3 pc (1.5 breast), 

Vinegar – 1.5 tbsp, 

Olive oil – 1.5 tbsp, 

Red onion – 1 pc,

Spice for shawarma – 1 tea spoon, 

Pita – 6 pc,

Salt, 

Tomato – 1 big, 

Cucumbers – 2 pc. 
For sauce: 
Sour cream 20% – tbsp, 

Mayonnaise – 7 tbsp, 

Kefir – 14 tbsp, 

Garlic – 7 cloves, 

Dill and parsley – 5 twigs each, 

Condiment for shawarma – 2 tea spoons, 

 Salt – 1 tea spoon flat.  

Marinated onion: 

Red onion – 1 pc, 

Boiled water – ½ glass, 

Sugar – 2 tea spoons, 

Salt – 1 tea spoon, 

Vinegar – 1.5 tbsp.   
You may buy condiment for shawarma in the market in stands with spices. It gives shawarma that very real taste!

Step 1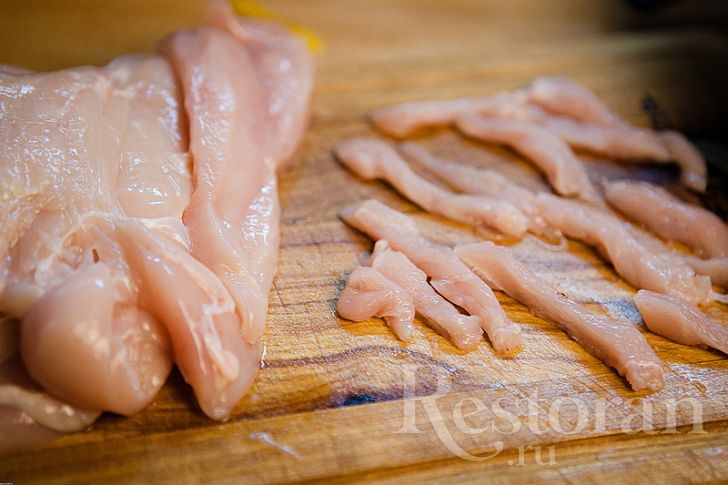 Cut chicken fillet into thin sticks.
Step 2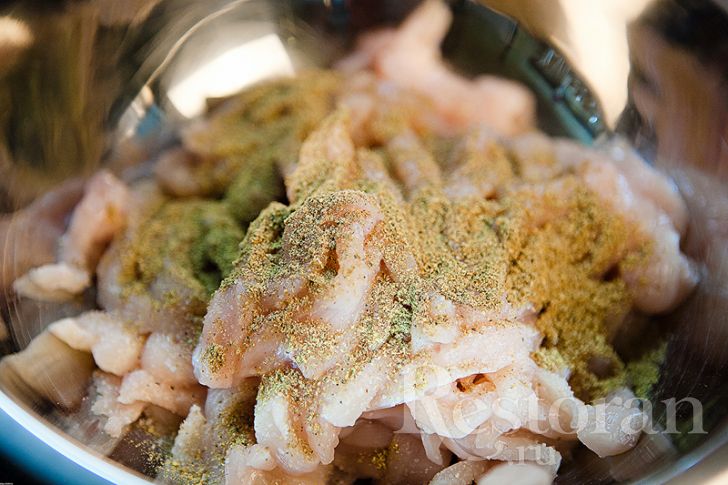 Place in a bowl, add vinegar, oil, condiment, sprinkle with salt and mix up.
Step 3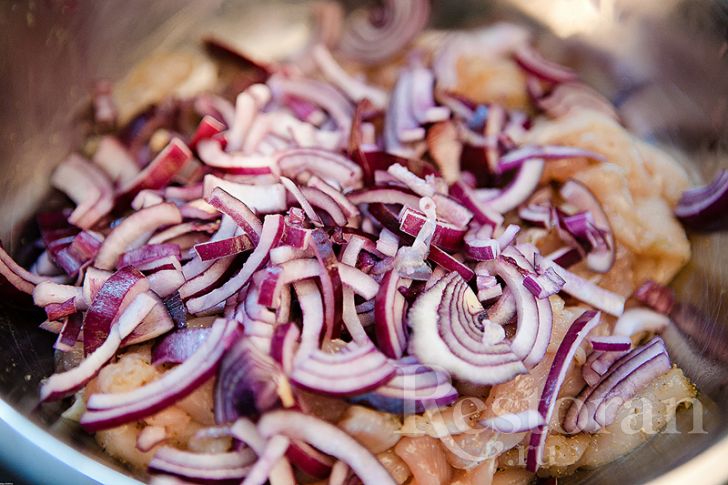 Cut the onion as you wish (we need it only for the marinade and we won't need it afterwards). Place it to the fillet, mix up and leave at room temperature for 30 minutes.
Step 4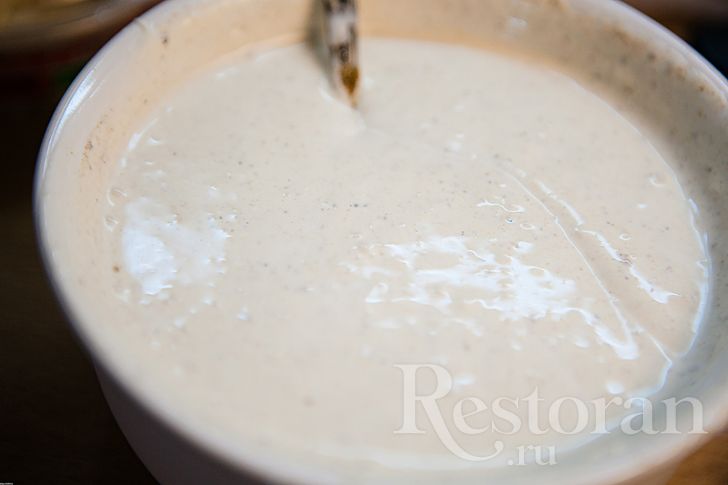 Make a sauce: mix up mayonnaise, sour cream and kefir until the flat mass. Press out the garlic, sprinkle with salt and add condiment. Mix up again.
Step 5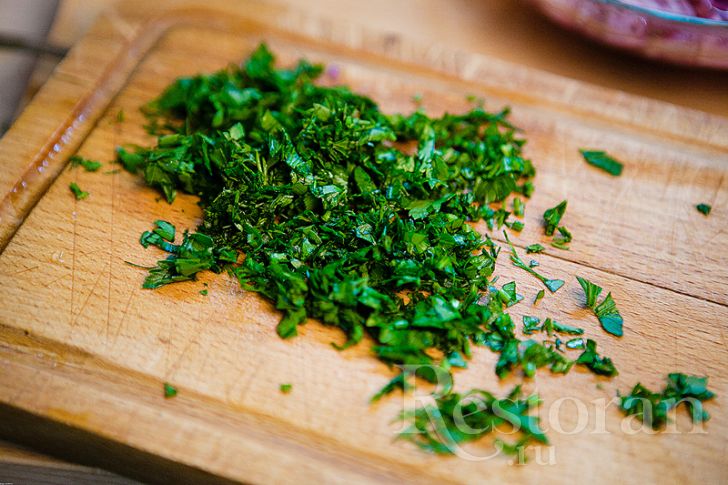 Finely chop the greens without stalks and place in the sauce. Place the sauce in the fridge until the moment X.
Step 6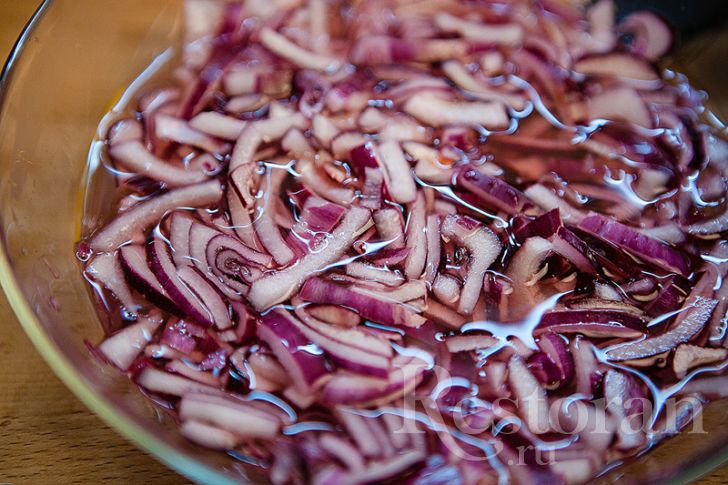 Prepare marinated onion: cut the onion into quarters. Pour the boiling water into a bowl, dissolve salt and sugar in it, add vinegar. Mix up all well and throw onion there. It's ready when it gets cool.
Step 7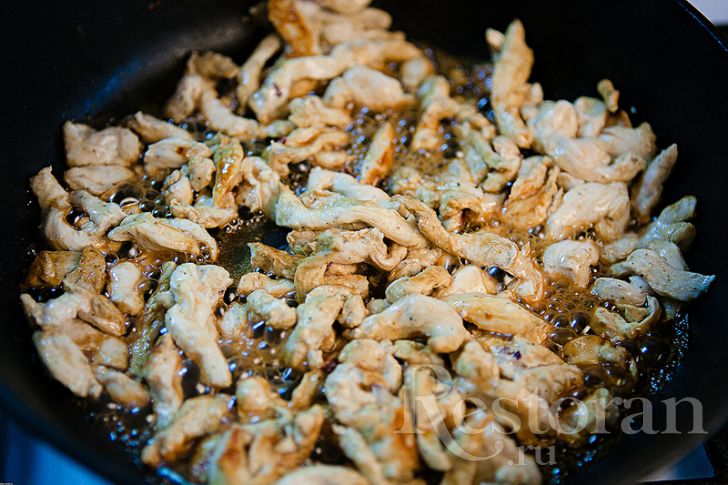 Now let's start cooking shawarma itself. Fry chicken fillet (without onion) on the dry (!!!) frying pan on strong heat. Better to do it in portions, so that it's fried, not stewed. When the chicken is ready, place it into the saucepan under cover to keep it warm.
Step 8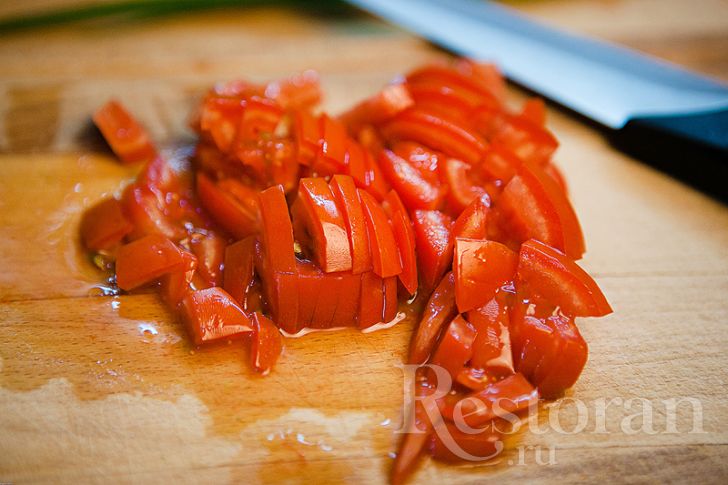 Cut tomatoes into fine pieces.
Step 9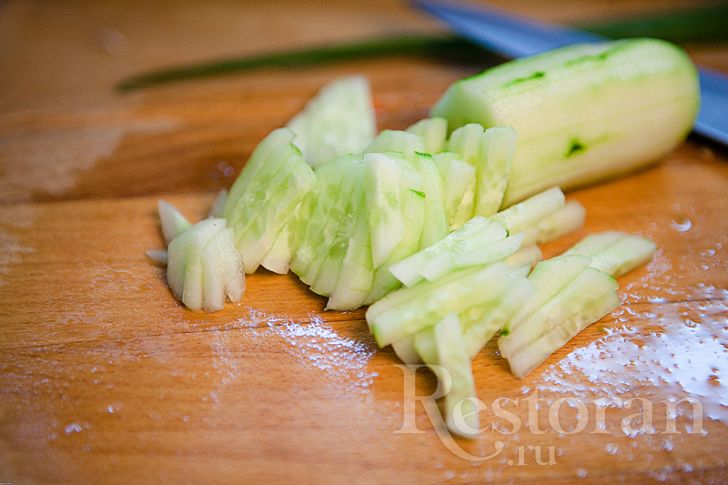 Cut cucumbers into sticks.
Step 10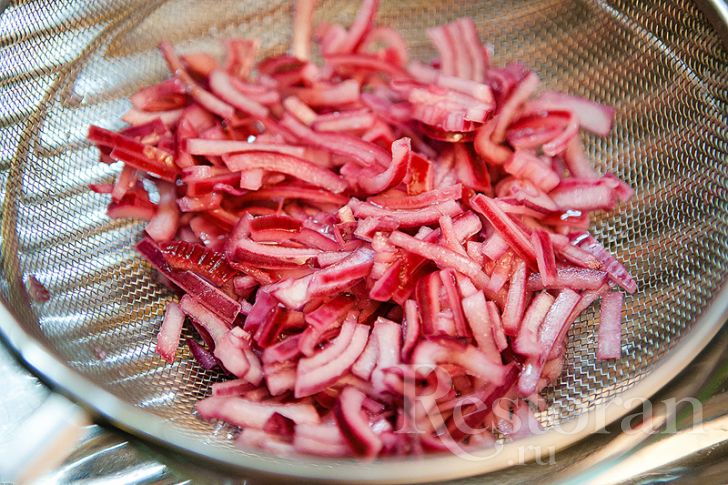 Drain off marinated onion through the sieve.
Step 11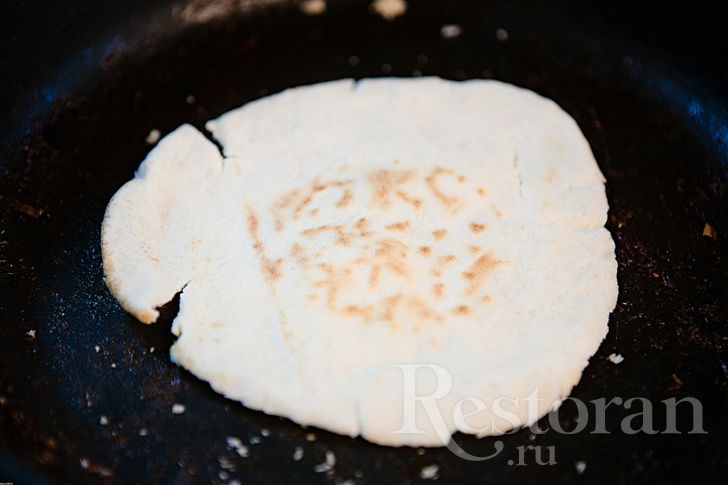 Halve pita alongside. Heat over two halves of pita per half a minute each (otherwise it'll get dry) on the dry frying pan (again) but the heat is medium this time.
Step 12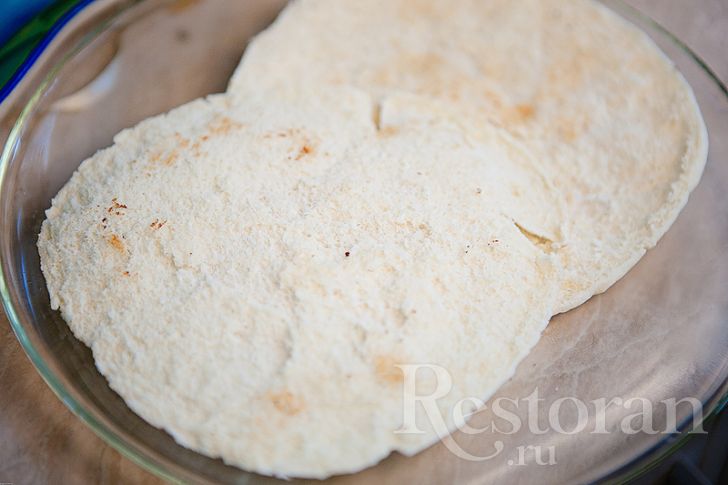 Arrange these two halves crossing each other to make figure of eight.
Step 13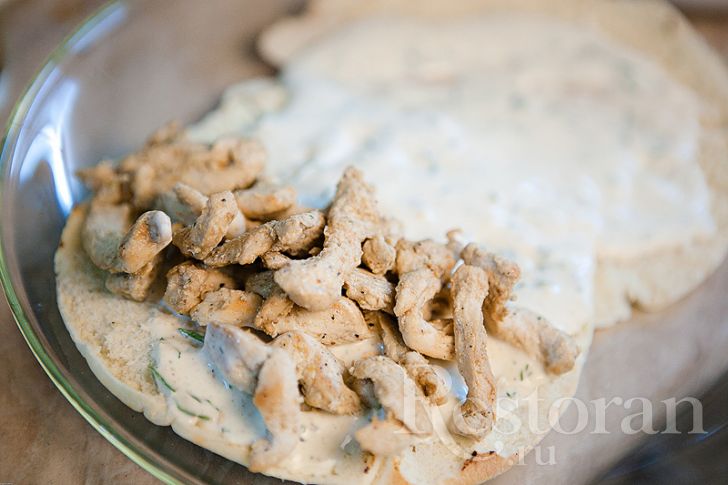 Coat the whole pita with sauce and place chicken fillet on the edge.
Step 14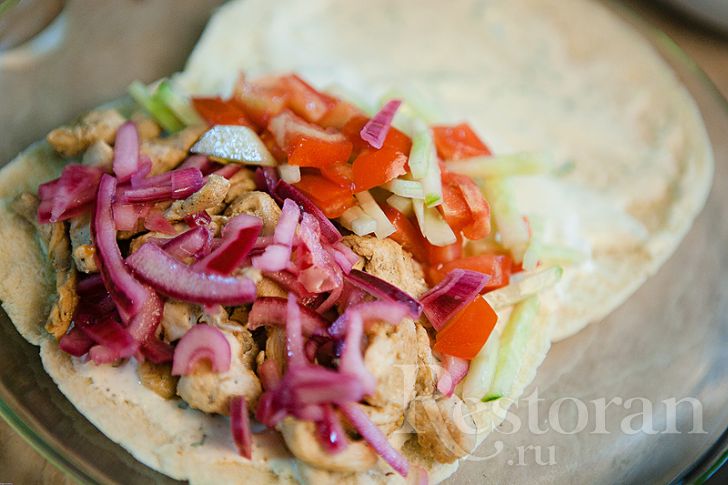 Then place marinated onion and vegetables. Feel free to top again with sauce.
Step 15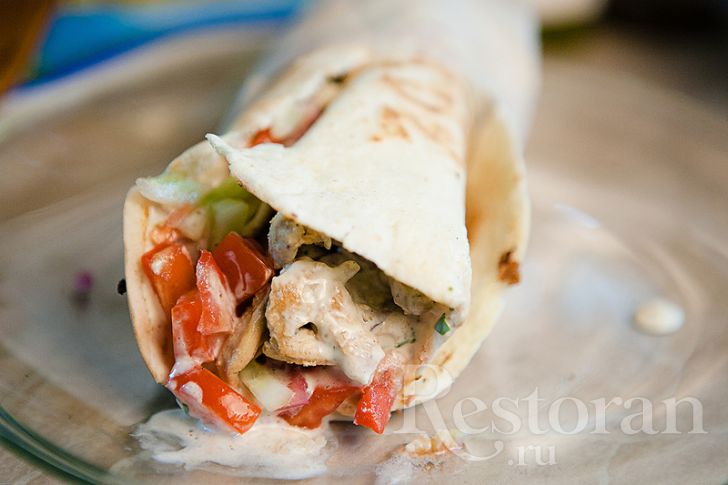 Wrap up shawarma very carefully pushing up the filling. Usually, I cut a 10-cm wide piece of baking paper and wrap up the bottom of shawarma in this paper bending the paper to 1/3 under the bottom. Even if we do it very fast, shawarma gets cold drastically fast. So, you may heat it for a minute in a microwave oven or frying pan under the cover. Hurry up to eat!
Bon appetite!
Similar recipes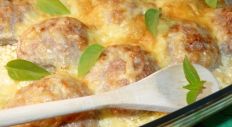 It is a very tasty and tender dish made of chicken.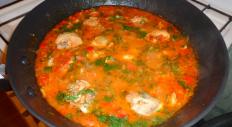 I am not pretending to a canon. In this case, it is an option adjusted to my taste.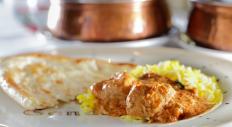 This is a bright dish of the Pakistani cuisine, very simple in cooking. The main ingredients are spices giving to the dish an incredible aroma. You may buy all spices in the markets or order delivery ...
ON TOP