Russian Hunt Restaurant: Fishmania 2012
The Russian Hunt restaurant has updated the chapter of fish dishes.  The guests are welcome to taste sterlet baked entirely and served with caviar sauce, young potatoes and Cherry tomatoes (1350 rubles); Chile sea-bass steak with Savoy cabbage (990 rubles)
The Russian Hunt restaurant has updated the chapter of fish dishes.  The guests are welcome to taste sterlet baked entirely and served with caviar sauce, young potatoes and Cherry tomatoes (1350 rubles); Chile sea-bass steak with Savoy cabbage (990 rubles); salmon baked in parchment paper bag with zucchini, crab meat and mushrooms (680 rubles); sturgeon, salmon, pike perch and sea comb baked in cream sauce (980 rubles); fish soup of 3 kinds of fish with small open pie (520 rubles). 
Read also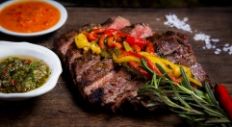 The brand chef of Pab Lo Picasso Roberto Jacomino Perez is good at experimenting with meat offering his own means to fig...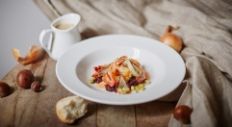 The chef of the Projector Restaurant Maxim Myasnikov keeps experiments with nuts. Chestnuts and hazelnuts seem to become...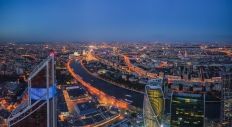 The restaurant holding White Rabbit Family is preparing to open a new project Sakhalin in the highest building in Europe...
ON TOP