Boemi Restaurant: New Serbian Grilled Dishes and Steaks
The menu of the Serbian cuisine restaurant has been updated with grilled dishes and three kinds of steaks. Grilled chapter has such new courses as Sablya (Sabre, 1180 rubles) - kebab made of lamb, beef and pork with vegetables for two persons, Cevapcici Cricket (690 rubles) - the dish made of 3 kinds of minced meat, kaimac, served on a red-hot frying pan and Pljeskavica (hamburger, 690 rubles)
The menu of the Serbian cuisine restaurant has been updated with grilled dishes and three kinds of steaks. Grilled chapter has such new courses as Sablya (Sabre, 1180 rubles) - kebab made of lamb, beef and pork with vegetables for two persons, Cevapcici Cricket (690 rubles) - the dish made of 3 kinds of minced meat, kaimac, served on a red-hot frying pan and Pljeskavica (hamburger, 690 rubles) cooked out of 3 kinds of meat with onion, kaimac and served on a red-hot frying pan as well.     
The steak chapter now may offer Knez (940 rubles) made of beef sirloin with eggplants, zucchini, sweet pepper and champignons, Rib-eye Steak with boiled vegetables (570 rubles) and Rib-eye Steak stuffed with Edam cheese, baked sweet pepper and mushroom sauce (760 rubles).  
Read also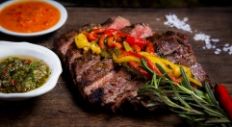 The brand chef of Pab Lo Picasso Roberto Jacomino Perez is good at experimenting with meat offering his own means to fig...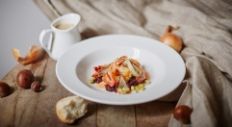 The chef of the Projector Restaurant Maxim Myasnikov keeps experiments with nuts. Chestnuts and hazelnuts seem to become...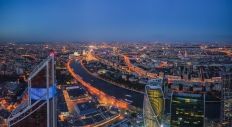 The restaurant holding White Rabbit Family is preparing to open a new project Sakhalin in the highest building in Europe...
ON TOP