Keanu Bar
This is a new bar with Korean food and Asian cocktails on Patriarshyi ponds.
By its name Keanu the owners are getting at the actor Keanu Reeve whose image in their opinion personifies not only East and West but also the best human characteristics. Keanu Bar is Asia not separated from Europe with modern manners and a fundamental approach for Orient traditions.
The interior of a small bar lodging only 36 guests looks very industrial but at the same tie Asian warm. The author is designer Fatima Mishikatti (Mishikatti Architectural Design). The bar menu has been developed by Chef Artem Martirosov (the Reka restaurant). He stakes on the Korean cuisine. Among remarkable dishes there is sea urchin with quail yolk and lemon espuma (600 rubles), traditional pastries pigodi with beef and cabbage pak choi (350 rubles). As for Kalbi set (1200 rubles) with simple ingredients but very nice to perceive, it is very good for a group of guests: tender beef fillet kept in fruit marinade and served with traditional Korean carrot, lettuce leaves mix, classical steamed pastries and three traditional Korean sauces.
Burger is made on a steam wheat pastry with kimchee sauce (450 rubles) with grated beetroot, iced carrot and white radish on top.
A bar is a basis of Keanu headed by Archil Nergadze (Suzy Wong Bar, Luch, Klava, Belka bar). He offers a dozen of author's alcohol cocktails and among them there is Keanu cocktail (galingale, red currants, rum, sake on gogi berries and barberry, 550 rubles), Spicy Island (ginseng vodka, white Martini on nutmeg flowers, 500 rubles), Sweety (guanabana, grapefruit gin, prosecco, 550 rubles). If you are here to have lunch and not going to increase the degree, feel free to choose smoothie with persimmon and mango (400 rubles)or milk cocktail with natural ice-cream and gogi berries (300 rubles).
The average bill is 1000-1500 rubles.
Malaya Bronnaya, 28.
Read also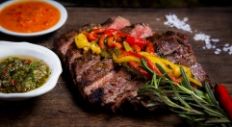 The brand chef of Pab Lo Picasso Roberto Jacomino Perez is good at experimenting with meat offering his own means to fig...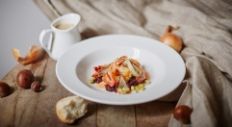 The chef of the Projector Restaurant Maxim Myasnikov keeps experiments with nuts. Chestnuts and hazelnuts seem to become...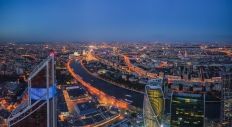 The restaurant holding White Rabbit Family is preparing to open a new project Sakhalin in the highest building in Europe...
ON TOP