Moussaka
Aromatic moussaka will cause wonderful memories about the sea, vacations, Greece… I tried to low down the calories not using Béchamel sauce. It's very tasty!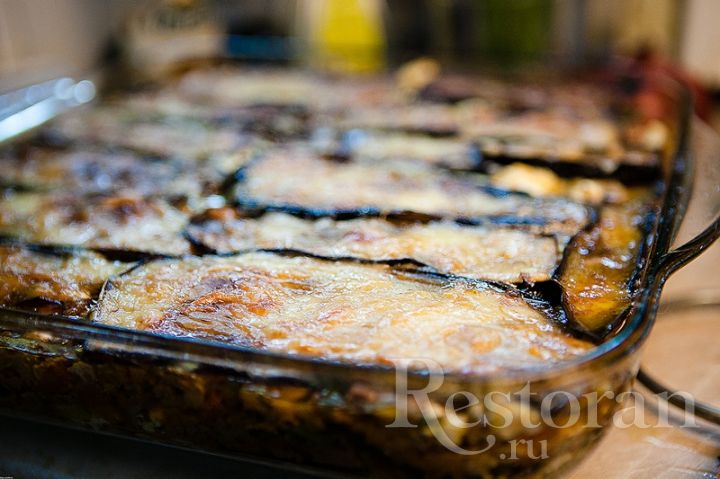 Ingredients:
Mince lamb – 700 g;

Eggplant – 5 pc average or 3 pc big;

Marrow – 1 pc average;

Carrot – 1 pc;

Celery stalk – 1 pc;

Garlic – 4 cloves;

Chili pepper – 1 pc;

Fresh (or canned) tomatoes – 200 g;

Dry red wine – 300 ml;

Rosemary – 1 twig;

Thyme – 2 twigs;

Parsley – bunch;

Feta (brynza) – 200 g;

Cheddar (or any hard cheese) – 100 g;

Olive oil;

Salt, pepper.
Step 1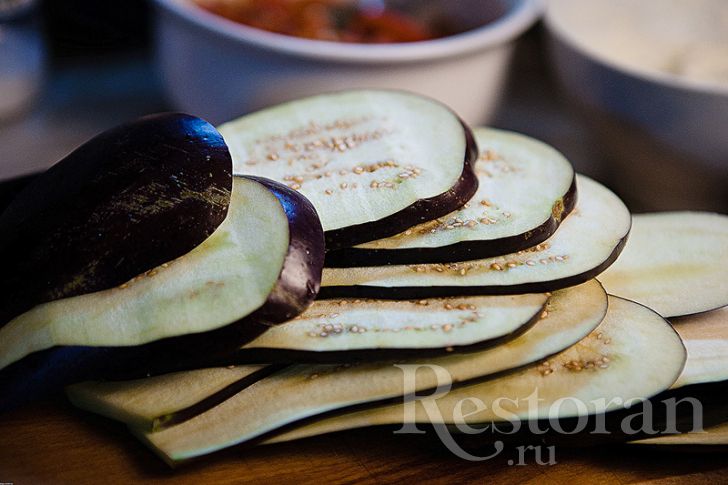 Finely slice eggplants alongside.
Step 2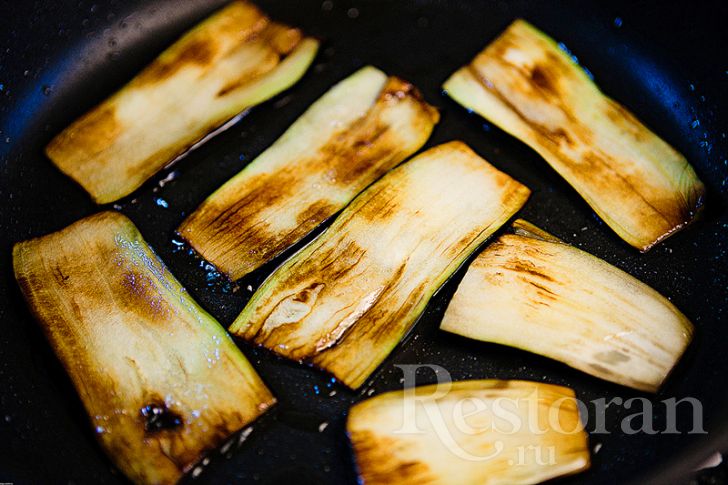 Fry slices of eggplants in a frying pan with olive oil from both sides until brown colour. (Remember to fry on olive oil not first press! It gets "not good", so I fried on vegetable oil and they take a lot of oil). Sprinkle with salt while frying. Put a piece of paper towel on a plate and place fried slices of eggplant there.
Step 3
While frying eggplants, cut the marrow into cubes (I had a young marrow without seeds, so I left the skin; if you have "an aged one", remove the skin and seeds).
Step 4
Cut the carrot the same way. Cut all finely!
Step 5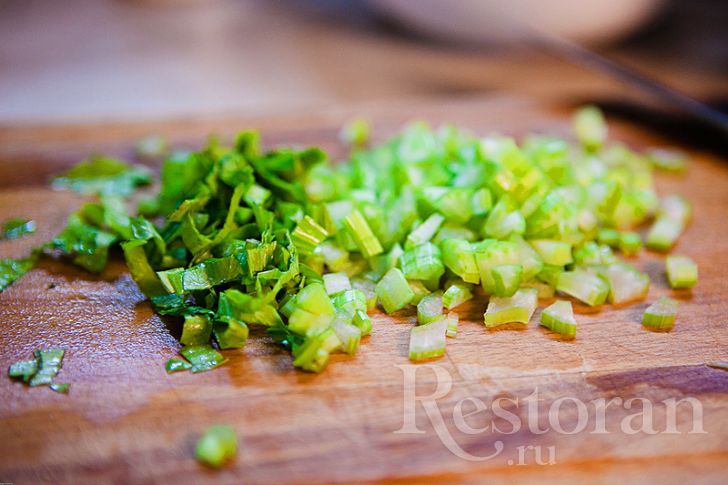 Cut the celery stalk the same way.
Step 6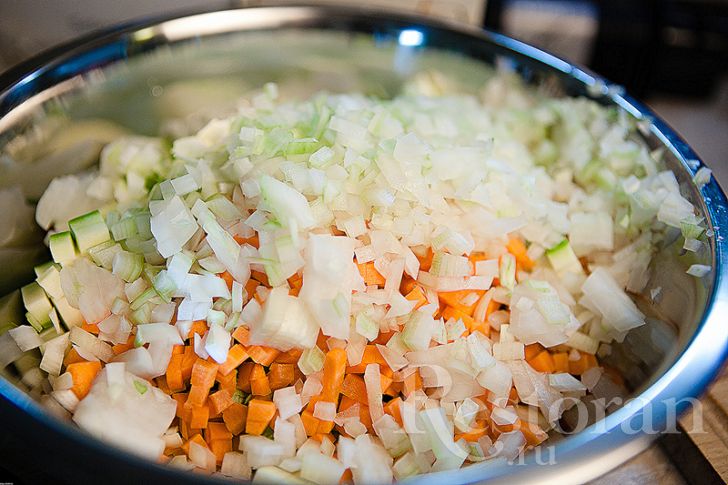 And finely chop the onion. I put it all into a bowl for convenience.
Step 7
Peel and cut the garlic into thin plates. Put the saucepan on the heat, pour 3-4 table spoons of olive oil and place there our cut vegetables. Stew out, mix up on average heat for 3-5 minutes. Vegetables should go limp and extract the juice.
Step 8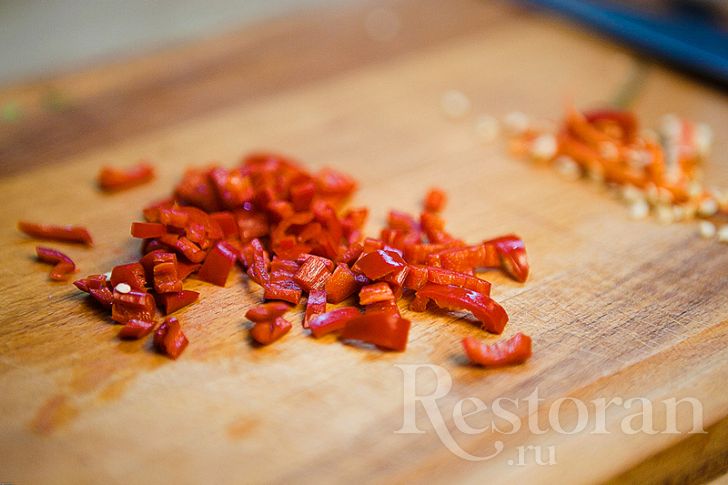 At this time halve chili pepper alongside, remove seeds and the core, finely chop. If you are doing it for the first time and you have no relevant experience, then I recommend using disposal gloves, otherwise, your fingers may be painful. I've already got used to it.
Step 9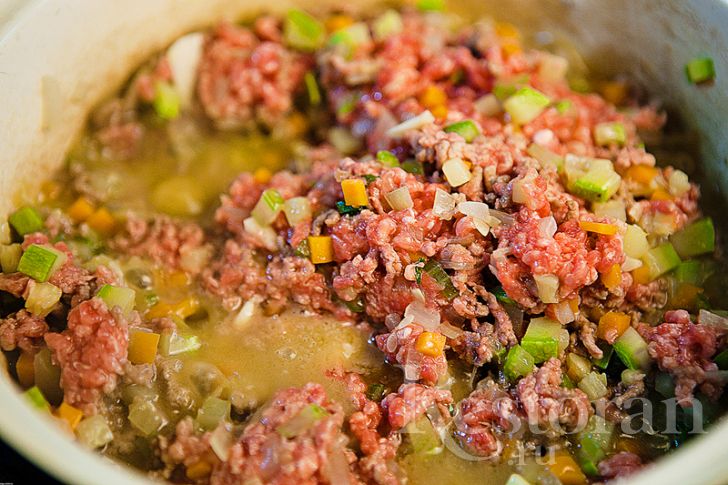 Add mince lamb and stew mixing up to eliminate balls and to mix it up flat with vegetables.
Step 10
When the mincemeat gets brown, add chopped chili pepper. Separate leaves of thyme and rosemary from stalks, finely chop them and place into the saucepan. Stir up and pour wine. Stew for 5 minutes to remove the alcohol smell.
Step 11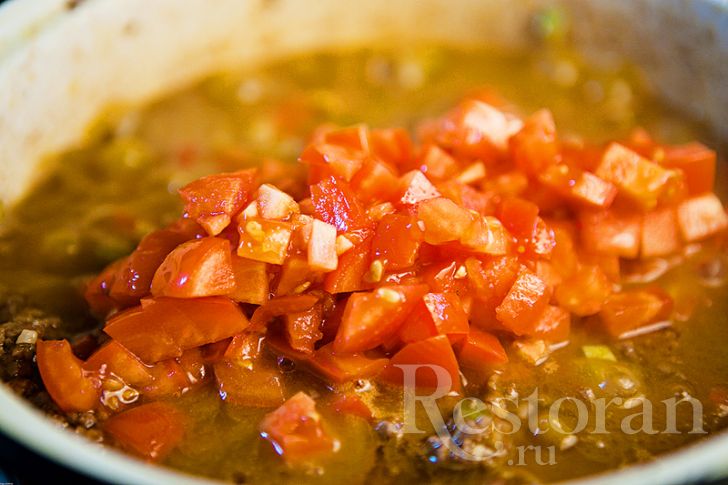 Then add tomatoes. I had 150 g of grated tomatoes and I took two other fresh tomatoes and cut into cubes. You may place only grated tomatoes or only fresh tomatoes. Stir them up. Stew for 10-15 minutes (follow up that liquid evaporates as we do not need mincemeat soup).
Step 12
Meanwhile, finely chop the parsley (leaves). Grease rectangular pan with olive oil (I had square glass pan).
Step 13
Place the layer of eggplants on the bottom of the pan.
Step 14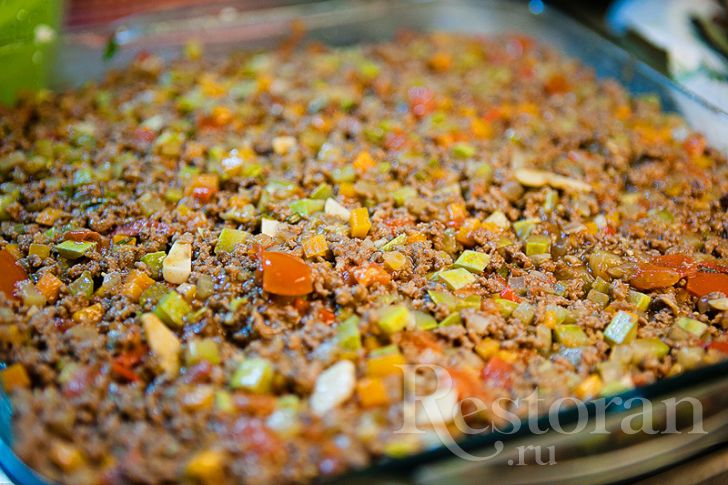 Divide our mincemeat filling into two halves. Using a perforated spoon, place half of mincemeat on top of the eggplants (to make extra juice flow down as we don't need it, otherwise moussaka will "be floating" but it's juicy enough). Make it flat.
Step 15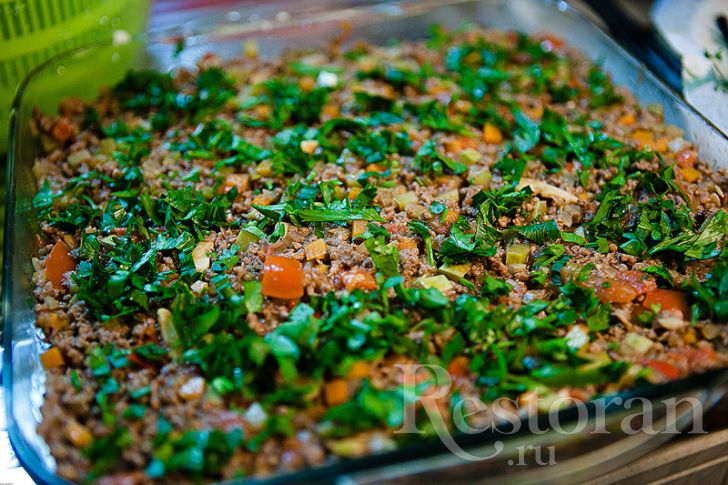 Top with half of chopped parsley.
Step 16
Crumble half of feta cheese with hands. Then we repeat the same – place the layer of eggplants, mincemeat left, parsley and feta. (In the pictures you see the second layer).
Step 17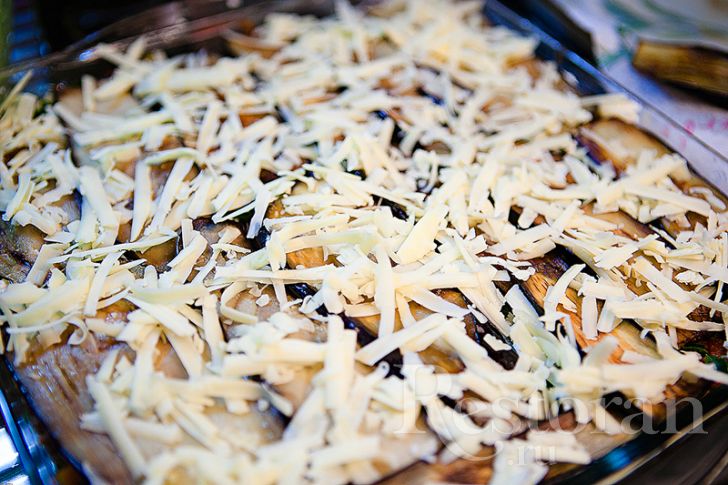 We complement construction with eggplants. We top with Cheddar cheese grated on a big grater (or any hard cheese but try to choose the hot one, Cheddar is perfect).
Step 18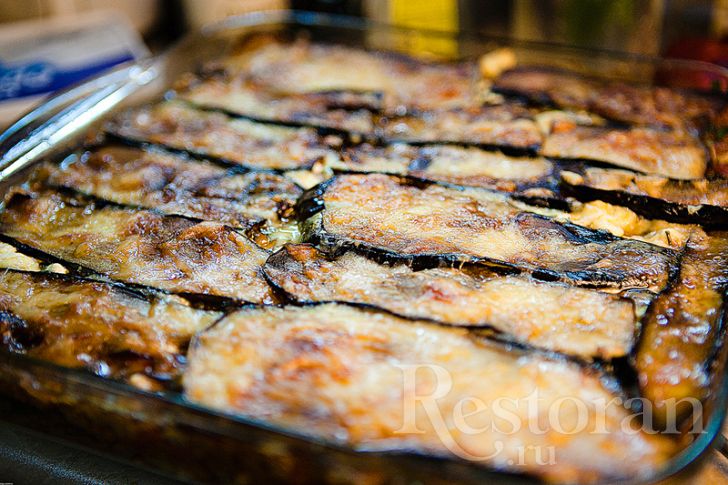 We place the pan into pre-heated oven until 190 degrees for 10 minutes and keep an eye! Cheese should be melted and brown crust is generated as a result. Serve immediately and talk into your family to leave anything for tomorrow!
Bon appetite!
ON TOP