Hash browns with trout mousse and bacon snack
I cannot resist this delicacy since childhood. When I was a little girl, we ate them just with sour cream and now we can enrich the dish which is anyway tasty, in my opinion. You may skip steps with fish and bacon and just enjoy potato hush browns.
Ingredients:
Potato – 2 kg;

Egg – 3 pc;

Trout (salmon) low salted – 200 g;

Sour cream – 4 tbsp + for serving;

Table horse radish – 1.5 tbsp;

Spring onion – 2 stalks;

Dill – 3-4 twigs;

Bacon – 150 g;

Onion – 1 pc;

Salt, fresh ground red pepper, paprika.
Step 1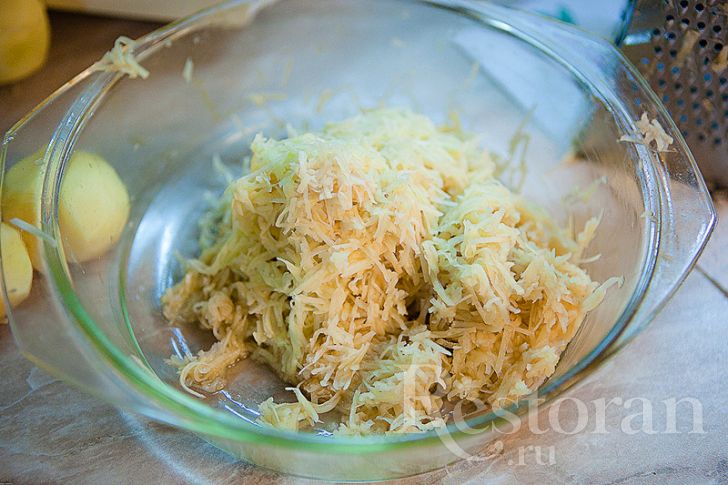 Peel potatoes and grate on a small grater. I was lazy a few times and blended potatoes in a food processor. It seems the same on a grater…but! The taste is completely different! Check it! So, do not be lazy and grate on a grater (by the way, it took me 10 minutes to grate 2 kg potatoes).
Step 2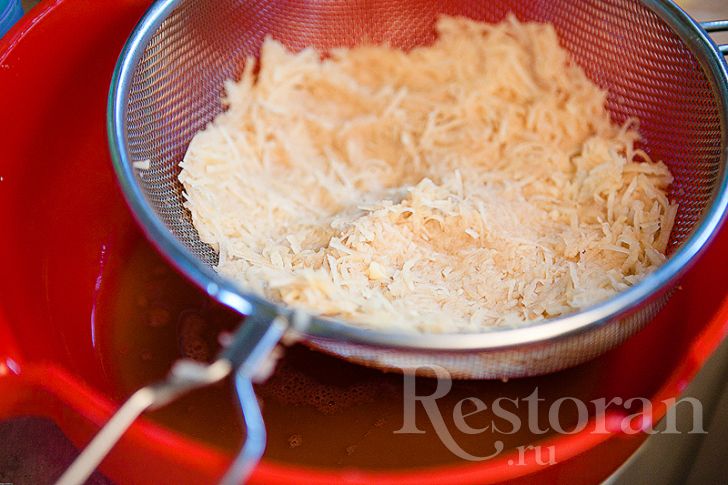 Press out potatoes in a big bowl (I say big to get the sieve placed well). Place pressed potatoes into another big bowl and from this one pour out the juice carefully and you will see the white starch left on the bottom…
Step 3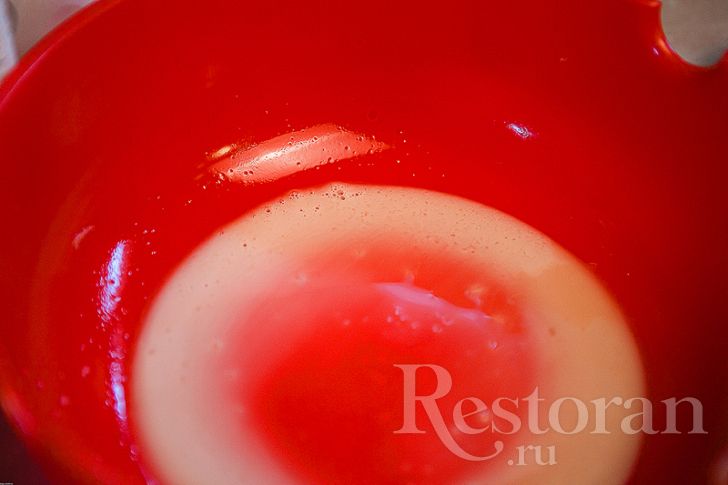 ...just as it is. This is starch. Using a spoon, place it to potatoes. I pressed out potatoes in portions, otherwise it's hard. I divided potatoes into three parts. This procedure will make us avoid adding flour.
Step 4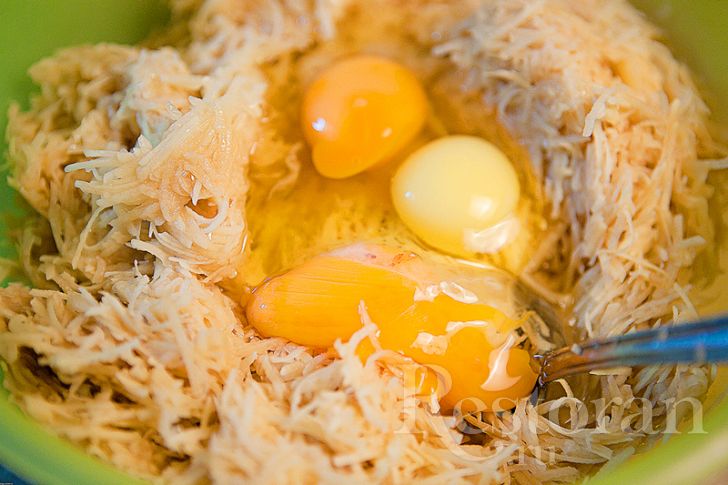 Then add eggs to potatoes and starch, sprinkle with salt and mix up well. In spite of all my efforts, my potatoes did extract juice. I propose not to get scared: mix up well the mass with juice before placing dumplings on a frying pan.
Step 5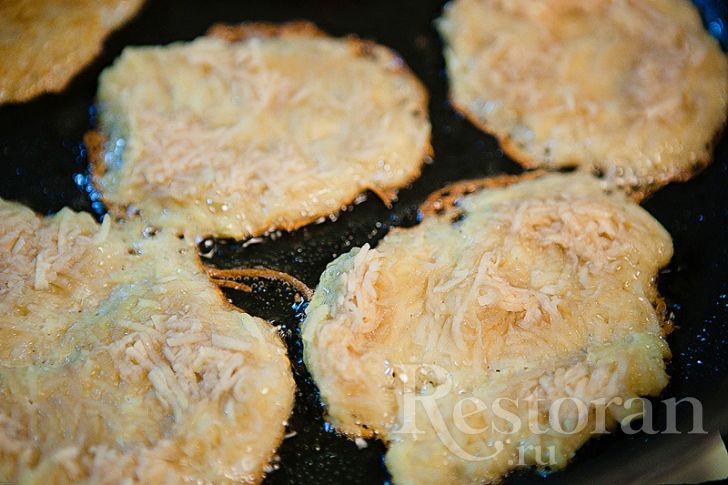 Shape dumplings with a spoon and place them on a pre-heated frying pan with oil. Fry from both sides on medium heat. When the edges get brown as you see in the picture, turn then over.
Step 6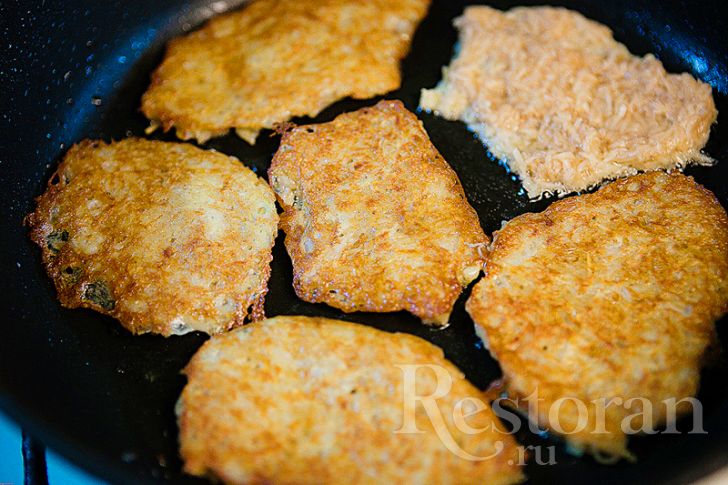 Just like that.
Step 7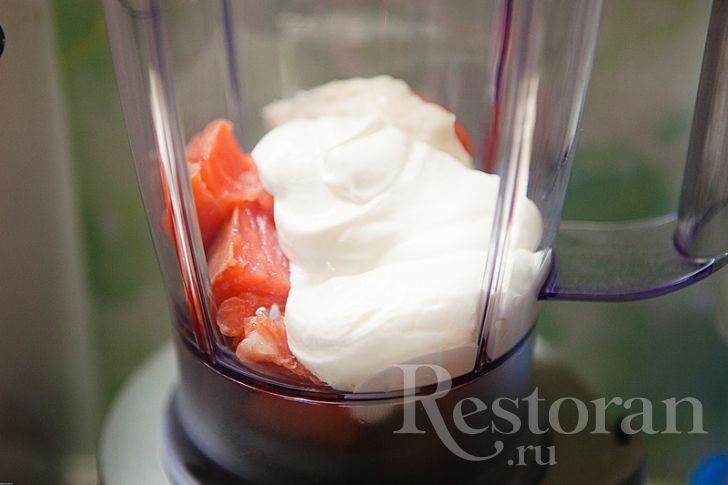 Let's prepare mousse when frying this beauty. Cut the fish into big pieces (I had fillet on the skin, so I cut carefully the meat over the skin with a sharp knife). Place in a blender, then add sour cream and horse radish and blend for 2-3 minutes until the flat mass.
Step 8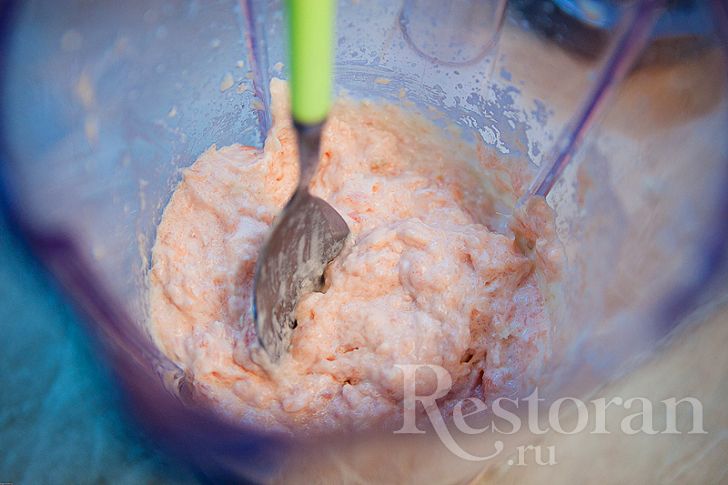 We will get such airy mousse – very nice!
Step 9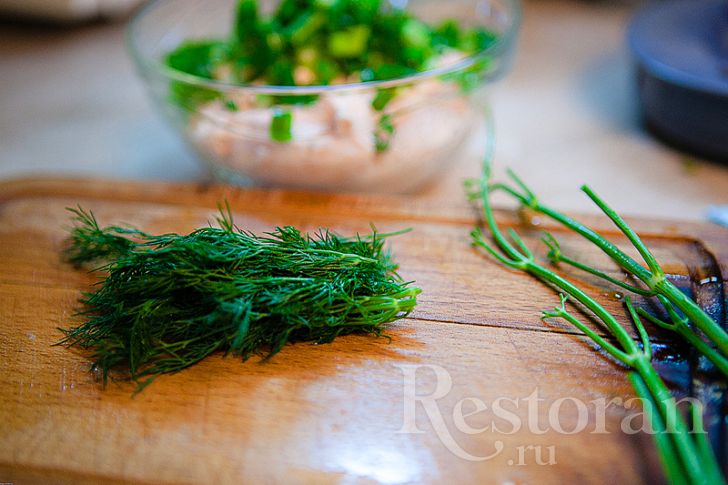 Place it into a bowl and chop the spring onion there. Take leaves of dill and finely chop them into the mousse.
Step 10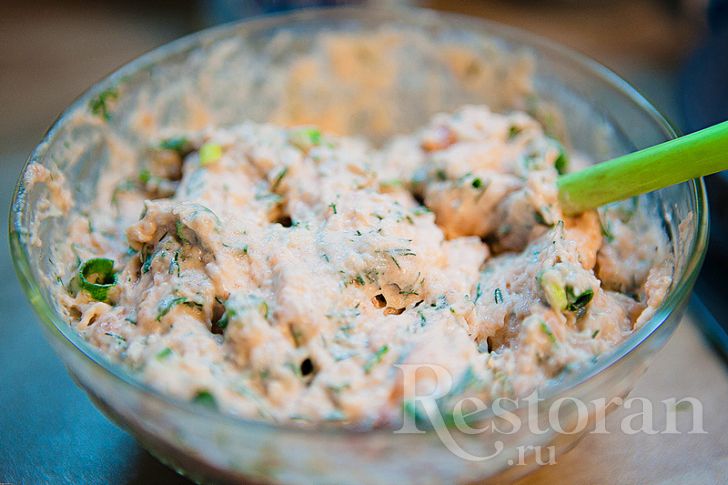 Mix up – it's ready!
Step 11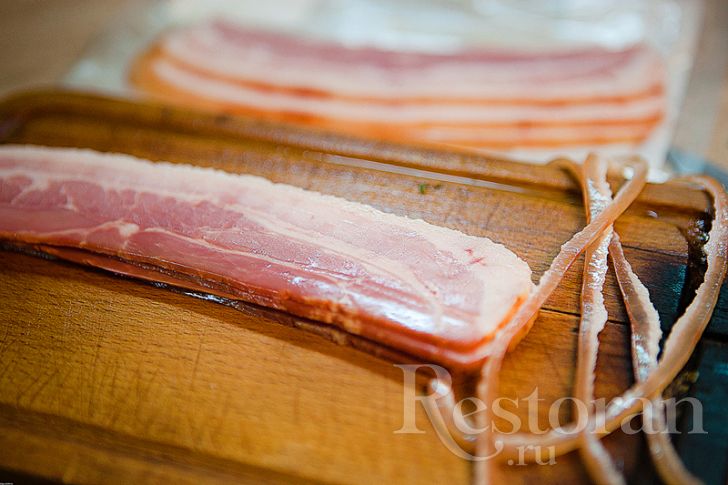 Now let's prepare bacon snack. Remove the crust and place sticks of bacon one on top of the other.
Step 12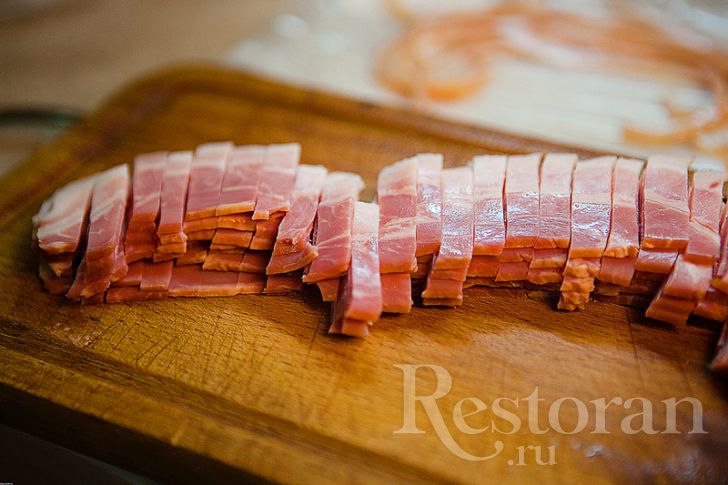 Cut into narrow sticks.
Step 13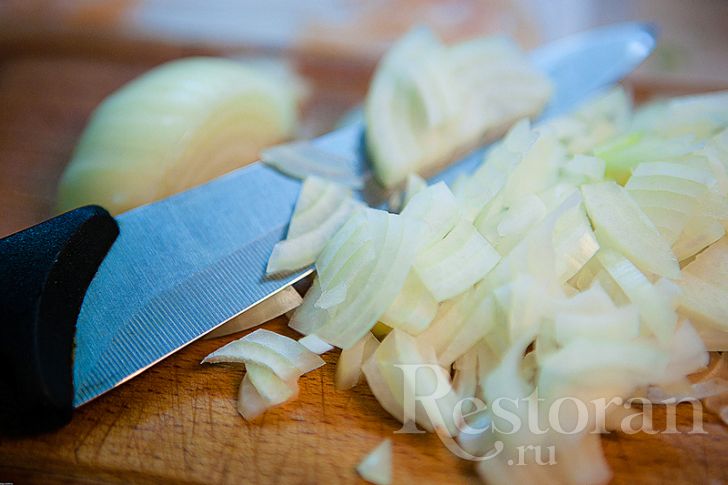 Cut peeled onion into two halves, then cut each half into 3-4 parts alongside and then cut crosswise into thin sticks.
Step 14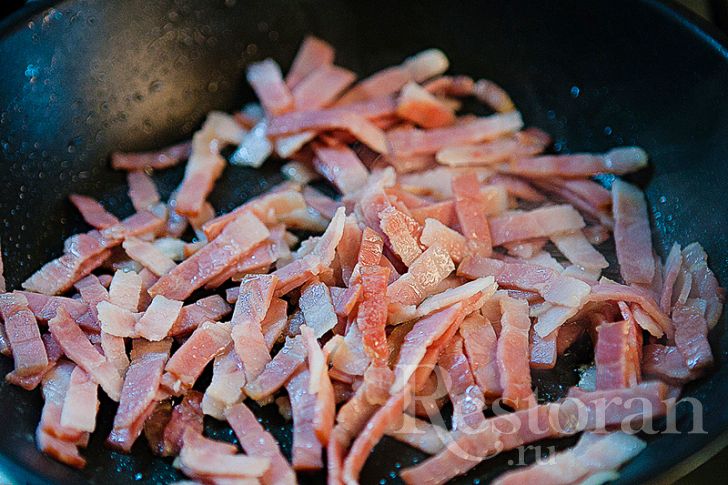 Fry the bacon on a dry frying pan.
Step 15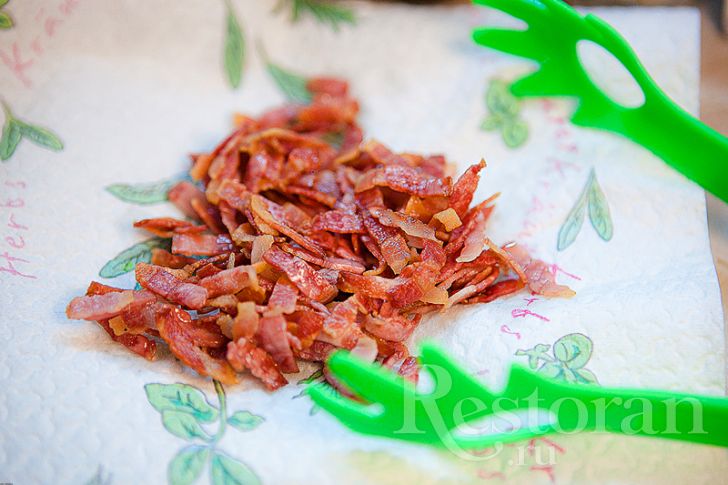 When the bacon is ready, place it on a paper towel.
Step 16
Add onion on the same frying pan into the juice left over after bacon, sprinkle with paprika and fresh ground hot red pepper, fry until the brown colour. Add oil if the bacon fat is not enough.
Step 17
Mix up bacon with onion in the bowl. That's all.
Step 18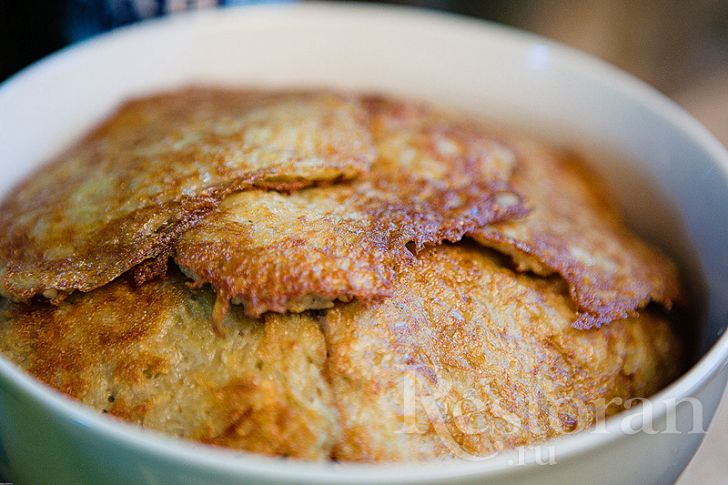 Place cooked hash browns into the bowl and keep under the cover while frying the rest to keep them hot.
Step 19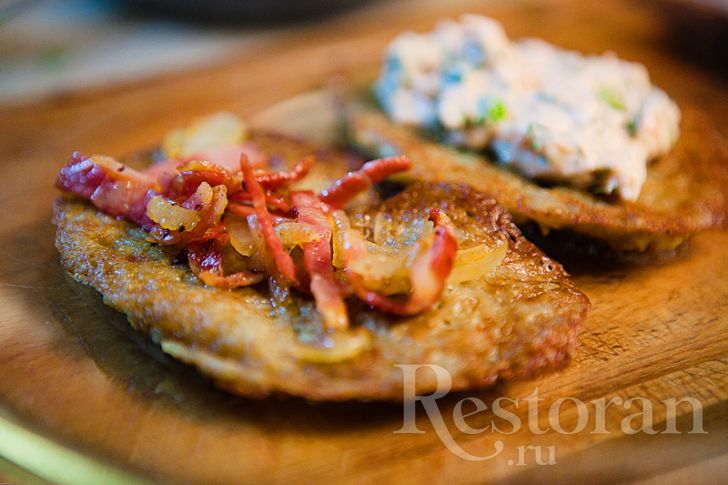 Serve a bowl with hash browns on a table together with "our" dressings – trout mousse, bacon with onion and sour cream. Eat with what you like. I can eat the whole bowl.
Bon appetite!
ON TOP