Lamb leg with rosemary
It's hard to create more brutal dish! So, I you haven't decided yet how to treat your man, feel free to go and search a good lamb leg. The marinade is wonderful! The combination garlic & rosemary are the best friends of lamb. It's incredibly tasty!
Ingredients:
Lamb leg – 2 kg;

Rosemary – 5 average twigs;

Garlic – 5 cloves;

Chili pepper – 1 pc;

Lemon – 1 pc;

Olive oil – 2 tbsp;

Big salt – 2 tea spoons flat;

Black ground pepper – 1 tea spoon.
Step 1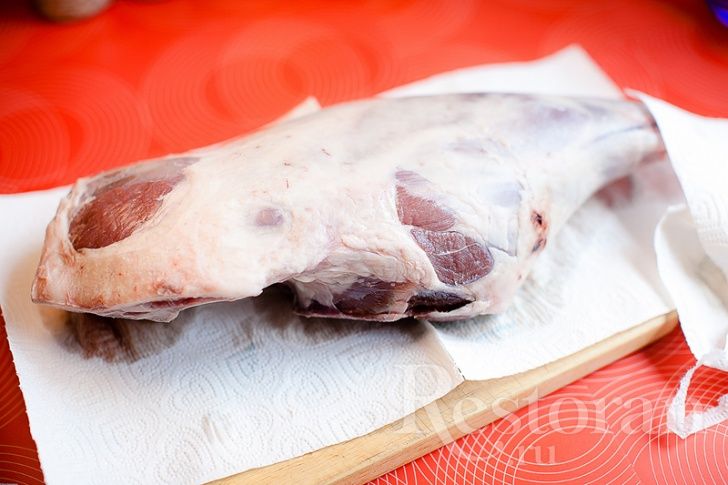 Wash out the leg and dry it with paper towel.
Step 2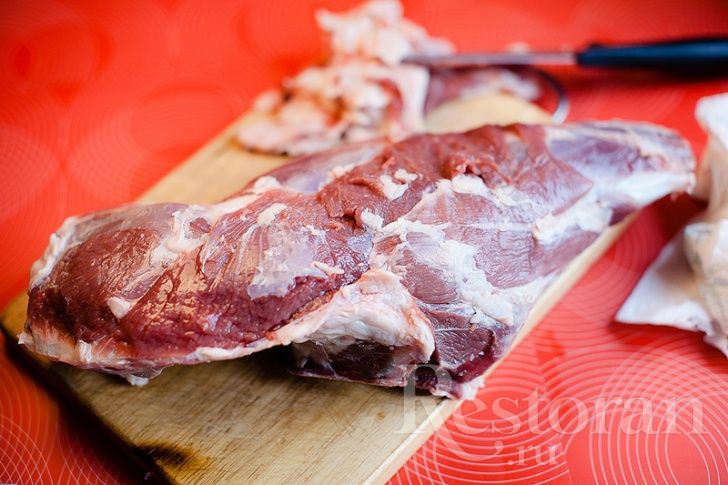 Cut extra fat and fibers.
Step 3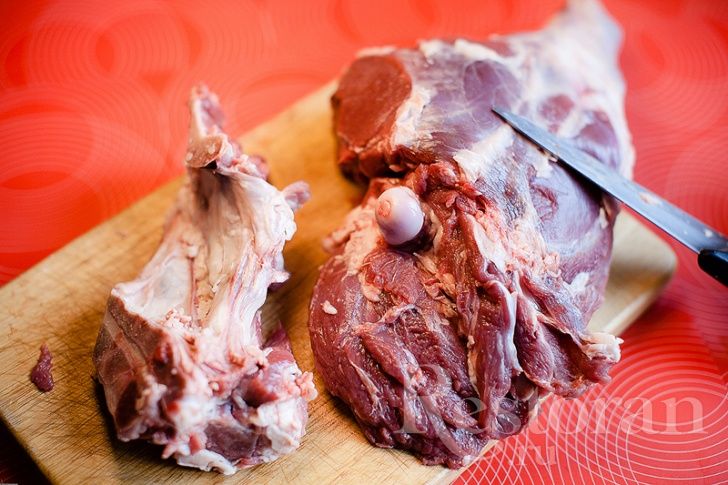 Cut out the side bone (if your leg has it just like me). I freeze it to the future soup, for instance.
Step 4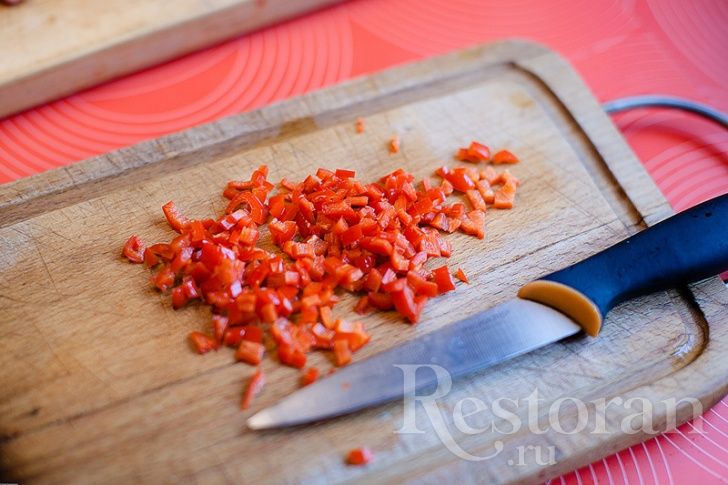 Prepare marinade. Finely chop chili pepper. I would highly recommend to do it in gloves.
Step 5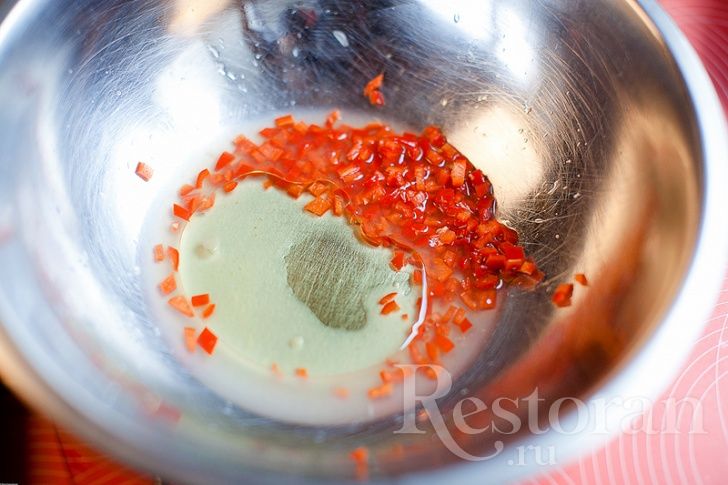 Pour olive oil in a bowl. Squeeze the lemon juice there and throw chili pepper.
Step 6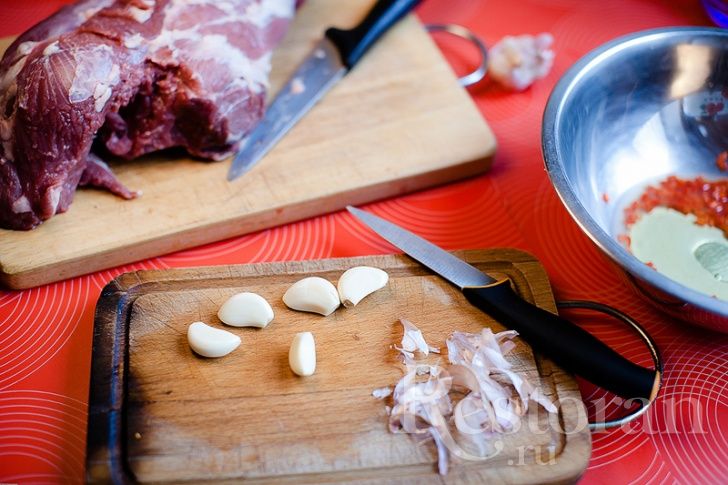 Press garlic cloves with a lateral side of knife as it'll make removing skin easier. Press out the garlic into the marinade.
Step 7
Wash rosemary, dry it out with paper towel. Cut out leaves from stalks and finely chop. Put into the marinade.
Step 8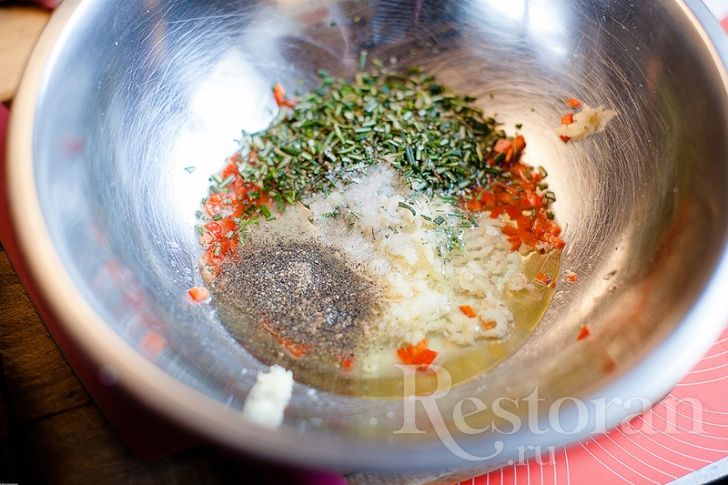 Sprinkle with salt and pepper.
Step 9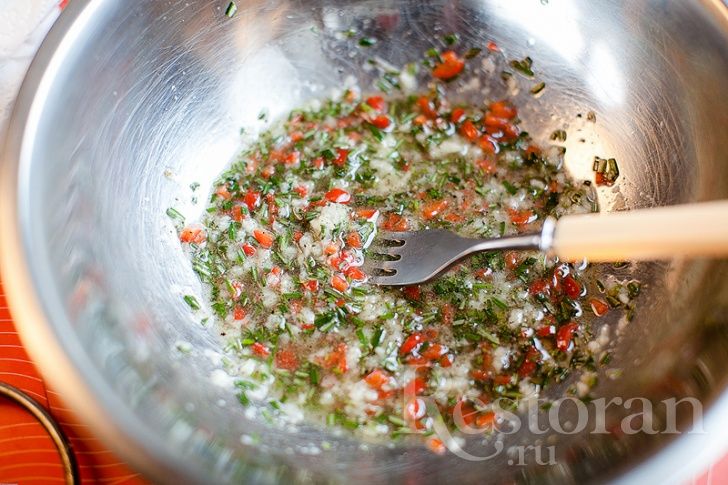 Stir up well with a fork.
Step 10
Put the leg into the baking pan with edges. Make holes in the leg and force with marinade. It's good to make not taking the knife out. I made about 15 holes from two sides.
Step 11
Coat the leg with marinade left from all sides. Leave for an hour at the room temperature.
Step 12
Then pour little hot water on the bottom of baking pan, just 1 millimeter and put into the oven for half an hour preheated until 200 degrees. It should be brown and extract all juices. Then take it out, pour with the juice extracted and put again to the oven but low down the temperature until 160 degrees before. Bake for another hour and pour with the juice every 15-20 minutes. Then switch off the oven and leave for an hour again. Or take it out, let it stay under the foil for 20 minutes and cut.
Step 13
Serve with your favorite side dish. It goes excellently with stewed cabbage.
Bon appetite!
ON TOP