Sumptuous Dinner With View To Bolshoi Theatre At Savva Restaurant
The brand chef of the SAVVA Restaurant Andrey Shmakov has developed an evening menu of author's dishes with motives of Russian, Baltic, Scandinavian and haute French cuisines especially to the opening of the excellent summer terrace overviewing to a splendid panorama of the Bolshoi Theatre.
Appetizers are creative but not complicated dishes. Incredibly high-quality burrata from Vladikavkaz is served with the best seasonal tomatoes. Blanc-manger made of whipped goat cheese with natural cream goes together with baked strawberries, beetroot, tomatoes and grated lamb. A king crab roll (1100 rubles) has been a real culinary summer hit for the second season.
The hot courses contain lots of fish. Really evening festive sturgeon (1350 rubles) à la russe is cooked sous vide and served with three kinds of ground pear. Pike perch and scallop (970 rubles) are served with semolina and baked garlic. Farmer's duck breast (1200 rubles) is cooked in vacuum, slightly grilled and glazed in orange sauce. Excellent angus steak (1400 rubles) goes together with fried corn lettuce, foie gras and marrow sauce.

You may finish your dinner with a dessert. Andrey Shmakov takes care that even traditional sweets are served in light version. For example, well-known Honey cake is cooked with meringue, raspberry and yogurt ice-cream.
Read also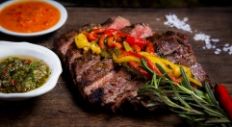 The brand chef of Pab Lo Picasso Roberto Jacomino Perez is good at experimenting with meat offering his own means to fig...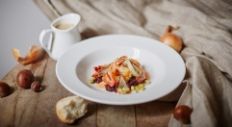 The chef of the Projector Restaurant Maxim Myasnikov keeps experiments with nuts. Chestnuts and hazelnuts seem to become...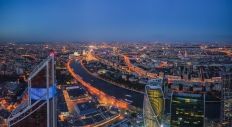 The restaurant holding White Rabbit Family is preparing to open a new project Sakhalin in the highest building in Europe...
ON TOP