Raw Menu At Panayekhali Restaurant
Mrs Gayane Breiova, the owner of Cafe & Bar Panayekhali, created a Raw Menu where she realised a modern trend of raw food regime in the carte of dishes perfect for spring detox.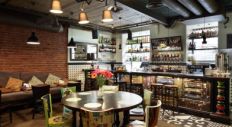 Kitchen:
Asian, European, Mediterranean
Average bill:
1000-1500 rub
Address:
1/4, Vtoroy Smolenskiy pereulok, Moscow
M
Smolenskaya (Arbatsko-Pokrovskaya)
All dishes and ingredients from the new raw menu at Cafe & Bar Panayekhali, are not warm processed, do not contain animal fat and gluten. Besides being healthy and very tasty, they are at least curious.
This is the menu:
Beetroot petals with cashew nuts cheese and garden lettuces, 370 rubles;
Kohlrabi, apple and celery root carpaccio with honey & ginger Spicy sauce, 320 rubles;
Gazpacho with celery, 370 rubles;
Soup with fresh spinach leaves, tomatoes and avocado, 330 rubles;
Zucchini noodles served with pesto made of cilantro or dried tomatoes, 420 rubles;
Brownie with natural cacao, walnuts, coconut shavings, dates and Agava syrup, 330 rubles.
Read also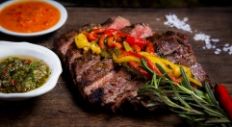 The brand chef of Pab Lo Picasso Roberto Jacomino Perez is good at experimenting with meat offering his own means to fig...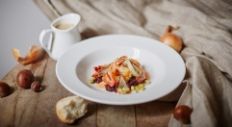 The chef of the Projector Restaurant Maxim Myasnikov keeps experiments with nuts. Chestnuts and hazelnuts seem to become...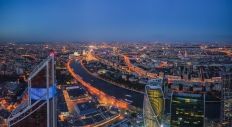 The restaurant holding White Rabbit Family is preparing to open a new project Sakhalin in the highest building in Europe...
ON TOP