Cuisine of South Pyrenees Regions at Brasserie Most
Brasserie Most invites you to a culinary tour to one of the most picturesque and tastiest regions of France – South Pyrenees.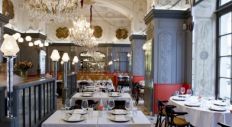 Kitchen:
French
Average bill:
2000-3000 rub
Address:
6/3 bldg. 3, Kuznetsky most str., Moscow
The variety of the local cuisine may be explained by the close location of Spain, Aquitania and Languedoc-Roussillon department. The influence of Basque and Italian cuisines is remarkable in the south. The following dishes present the South Pyrenees cuisine at Brasserie Most: Aveyronnaise salad with veal, pear and famous Roquefort goat cheese made in Rouergue province; Brouillards egg with black truffle; Toulousian cassoulet (beans ragout) with duck confit cooked per traditional recipe; Savoy cabbage stuffed with veal and black chanterelles from the same-name county of Italy; potato Brandade with trout and frozen parfait with black plum and Armagnac.
You may get into the atmosphere of the French province and to see the variety of the dishes from south of France staying in Moscow at Brasserie Most café until March 4th.
Read also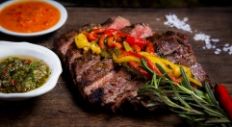 The brand chef of Pab Lo Picasso Roberto Jacomino Perez is good at experimenting with meat offering his own means to fig...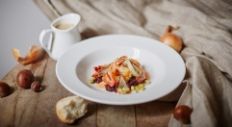 The chef of the Projector Restaurant Maxim Myasnikov keeps experiments with nuts. Chestnuts and hazelnuts seem to become...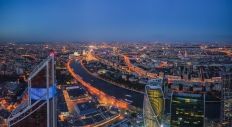 The restaurant holding White Rabbit Family is preparing to open a new project Sakhalin in the highest building in Europe...
ON TOP